Maeve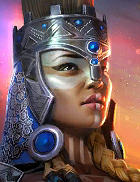 And Stay Down
Cooldown: 5 turns
Attacks 1 enemy. Enemies killed by this skill cannot revived.
Level 2: Damage +5%
Level 3: Damage +5%
Level 4: Cooldown -1
Level 5: Cooldown -1
Lore
A born rider and a hawk-eyed archer, Maeve serves among her Clan's most honoured warriors. The shamans claim that she is marked by the spirits, that her clarity of mind, her cunning, and her keen aim are truly enhanced by her long-dead kindred. As per the guidance of the Clan's spiritual leaders, Maeve covers her body in ink and devotional warpaint in preparation for battle. When time allows, she communes with the Ancestors through inhaling sacred incense and meditation, seeking their strength to add to her own. Though it is unclear exactly how much this communion helps, few can deny that Maeve has the uncanny instincts of a master huntress. Even if her arrows cannot slay the foe with a single fell stroke, the hapless target is often wrongfooted and dazed, while Maeve is all too quick to capitalize on her advantage. What does seem odd, however, is her ability to cut the threads of fate that the enemy's mages and healers follow to bring their fallen warriors from the brink of death. Perhaps, there is something of value in the shamans' ramblings after all. Or a different kind of Providence guides Maeve's hand for reasons unknown to a mortal mind.
Ratings of Maeve
Location
Rating
Campaign
Arena
Offensive:
Defensive:
Clan boss
Without T6 mastery:
With T6 mastery:
Ice Golem's Peak
Dragon's Lair
Spider's Den
Fire Knight's Castle
Minotaur's Labyrinth
Force Keep
Magic Keep
Spirit Keep
Void Keep
Masteries advices
Advices regarding the mastery choice for Maeve.
T6: Warmaster or Giant Slayer?
Clan Boss
We don't have enough information about Maeve to determine whether he should have Warmaster or Giant Slayer as T6 mastery.
Arena
We recommend using Warmaster in the Arena, despite the number of hits any skill from Maeve does.
Recommended builds for Maeve
For Arena, Campaign, Faction Wars
by ayumilove
ATK%, C.RATE, C.DMG, SPD, ACC
ATK%, C.RATE, C.DMG, SPD, ACC
ATK%, C.RATE, C.DMG, SPD, ACC
ATK%, C.RATE, C.DMG, SPD, ACC
For Arena, Campaign, Faction Wars
by ayumilove
ATK%, C.RATE, C.DMG, SPD, ACC
ATK%, C.RATE, C.DMG, SPD, ACC
ATK%, C.RATE, C.DMG, SPD, ACC
ATK%, C.RATE, C.DMG, SPD, ACC
For Clan Boss, Dungeons
by ayumilove
ATK%, C.RATE, C.DMG, SPD, ACC
ATK%, C.RATE, C.DMG, SPD, ACC
ATK%, C.RATE, C.DMG, SPD, ACC
ATK%, C.RATE, C.DMG, SPD, ACC
Masteries for Maeve
For Arena, Campaign, Clan Boss, Dungeons, Faction Wars
by ayumilove
---
Updated on 2021-03-28