Magister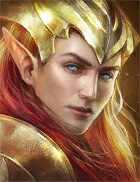 Majestic Staff
Attacks 1 enemy. If the hit is critical, places a 25% [Increase ATK] buff on a random ally for 1 turn.
Damage based on: [ATK]
Level 2 Damage +5%
Level 3 Damage +5%
Level 4 Damage +5%
Level 5 Damage +10%

Anoint
Cooldown: 4 turns
Places a 30% [Revive on Death] buff and a 30% [Reflect Damage] buff on a target ally for 2 turns. Heals all other allies by 10% of the target's HP.
Level 2 Heal +5%
Level 3 Heal +5%
Level 4 Heal +10%
Level 5 Heal +10%
Censure
Cooldown: 5 turns
Attacks all enemies. Has a 50% chance of placing a 50% [Heal Reduction] debuff for 2 turns.
Damage based on: [ATK]
Level 2 Damage +5%
Level 3 Damage +10%
Level 4 Buff/Debuff Chance +10%
Level 5 Buff/Debuff Chance +15%

Aura
Increases Ally HP in Faction Crypts by 22%
Lore
In the complicated and byzantine hierarchy of the High Elves, promotion to elevated rank can take centuries. One faster step on the path to greater social rank is attaining the position of Magister. Even low-born Elven warriors willing to spend 50 years in services as a practitioner of battlefield healing magic can claim rights to this title. Those who do are valued greatly by their comrades in battle.
Ratings of Magister
Location
Rating
Campaign
Arena
Offensive:
Defensive:
Clan boss
Without T6 mastery:
With T6 mastery:
Ice Golem's Peak
Dragon's Lair
Spider's Den
Fire Knight's Castle
Minotaur's Labyrinth
Force Keep
Magic Keep
Spirit Keep
Void Keep
Masteries advices
Advices regarding the mastery choice for Magister.
T6: Warmaster or Giant Slayer?
Clan Boss
We recommend using Warmaster, the skill Majestic Staff hits 1 time, which will benefit more to Warmaster than Giant Slayer.
Arena
We recommend using Warmaster in the Arena, despite the number of hits any skill from Magister does.
Fusions
Magister is not part of any fusion
---
Updated on 2021-03-28