Marquis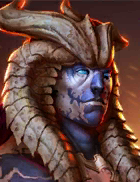 Skewer
Attacks 1 enemy. If the hit is critical, places a 15% [Decrease SPD] debuff.
Damage based on: [ATK]
Level 2 Damage +5%
Level 3 Damage +5%
Level 4 Damage +5%
Level 5 Damage +5%

Infernal Skill
Cooldown: 4 turns
Places a [Counterattack] buff and a 15% [Continuous Heal] buff on this Champion for 2 turns.
Level 2 Cooldown -1
Level 3 Cooldown -1

Paralyzing Bolts
Cooldown: 4 turns
Attacks all enemies. Has a 35% chance of placing a [Sleep] debuff for 1 turn. This debuff cannot be removed.
Damage based on: [ATK]
Level 2 Damage +10%
Level 3 Buff/Debuff Chance +5%
Level 4 Buff/Debuff Chance +5%
Level 5 Buff/Debuff Chance +5%
Level 6 Cooldown -1

Aura
Increases Force Ally HP in all battles by 18%
Lore
The profane hierarchy of Siroth's legions is not unlike that of the mortal nobility in Teleria. There is protocol, a certain twisted propriety in demonic dealings, there are ranks and titles. The Marquis and Marquesses stand high in this hierarchy, serving as tacticians and commanders of the Demonspawn hosts. Some they there were mortals once, before Siroth's servants came to Teleria. Driven by fear or ambition, a terrible pact has been made by the nobles to retain their status, yet at a dear price – their very souls. Servants of Lumaya say that any mortal to be foolish enough to sign such a pact lives on in torment, their consciousness entrapped in suffocating, eternal darkness. Survive they will, though most will – in time – beg for the release of death. And yet there is never a lack of those who are willing to test these tales for the promise of power.
Ratings of Marquis
Location
Rating
Campaign
Arena
Offensive:
Defensive:
Clan boss
Without T6 mastery:
With T6 mastery:
Ice Golem's Peak
Dragon's Lair
Spider's Den
Fire Knight's Castle
Minotaur's Labyrinth
Force Keep
Magic Keep
Spirit Keep
Void Keep
Masteries advices
Advices regarding the mastery choice for Marquis.
T6: Warmaster or Giant Slayer?
Clan Boss
We recommend using Warmaster, the skill Skewer hits 1 time, which will benefit more to Warmaster than Giant Slayer.
Arena
We recommend using Warmaster in the Arena, despite the number of hits any skill from Marquis does.
Recommended builds for Marquis
For Arena, Campaign, Faction Wars
by ayumilove
DEF%, C.RATE, C.DMG, SPD, ACC
DEF%, C.RATE, C.DMG, SPD, ACC
DEF%, C.RATE, C.DMG, SPD, ACC
DEF%, C.RATE, C.DMG, SPD, ACC
For Clan Boss, Dungeons
by ayumilove
DEF%, C.RATE, C.DMG, SPD, ACC
DEF%, C.RATE, C.DMG, SPD, ACC
DEF%, C.RATE, C.DMG, SPD, ACC
DEF%, C.RATE, C.DMG, SPD, ACC
For Clan Boss, Dungeons
by ayumilove
DEF%, C.RATE, C.DMG, SPD, ACC
DEF%, C.RATE, C.DMG, SPD, ACC
DEF%, C.RATE, C.DMG, SPD, ACC
DEF%, C.RATE, C.DMG, SPD, ACC
Masteries for Marquis
For Arena, Campaign, Clan Boss, Dungeons, Faction Wars
by ayumilove
---
Updated on 2021-03-28