Mother Superior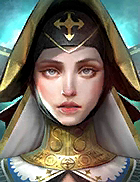 Skills of Mother Superior

Lightning Sanction
Attacks 1 enemy. Has a 35% chance of placing a 25% [Decrease ATK] debuff for 2 turns.
Damage based on: [ATK]

Fill With Blessing
Cooldown: 4 turns
Heals an ally by 30% of this Champion's MAX HP.
Places a [Shield] buff equal to any surplus heal for 2 turns if the target is fully healed by this Skill

Brim With Life
Cooldown: 5 turns
Places a 7.5% [Continuous Heal] buff on all allies for 2 turns. Places a [Shield] buff equal to 10% of the target's HP on all allies for 2 turns if an ally's HP is full

Aura
Increases Ally SPD in all battles by 13%
Lore
It takes both great skill and unshakable faith to rise in the ranks of the Sacred Order. Be it among its warriors and Knights Militant, or the healers of the Order. A Mother Superior of the Hospitallers is well-versed in both the more grounded forms of healing and the appropriate prayers and litanies that can harness the power of Lumaya's divine grace. Though loathe to do violence, she shall fight if called upon, blinding the enemy and throwing their attacks astray. But it is the well-being of her allies that concerns her the most, and thus Mother Superior shall focus on her foremost duties when possible.
Ratings of Mother Superior
Location
Rating
Campaign
Arena
Offensive:
Defensive:
Clan boss
Without T6 mastery:
With T6 mastery:
Ice Golem's Peak
Dragon's Lair
Spider's Den
Fire Knight's Castle
Minotaur's Labyrinth
Force Keep
Magic Keep
Spirit Keep
Void Keep
Masteries advices
Advices regarding the mastery choice for Mother Superior.
T6: Warmaster or Giant Slayer?
Clan Boss
We don't have enough information about Mother Superior to determine whether he should have Warmaster or Giant Slayer as T6 mastery.
Arena
We recommend using Warmaster in the Arena, despite the number of hits any skill from Mother Superior does.
Recommended builds for Mother Superior
For Arena, Campaign, Faction Wars
by ayumilove
For Arena, Campaign, Faction Wars
by ayumilove
For Clan Boss, Dungeons
by ayumilove
For Clan Boss, Dungeons
by ayumilove
For Clan Boss, Dungeons
by ayumilove
Masteries for Mother Superior
For Arena, Campaign, Clan Boss, Dungeons, Faction Wars
by ayumilove
---
Updated on 2021-03-28