Myrmidon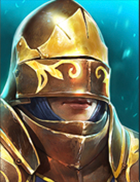 Bone Spitter
Attacks 1 enemy. Has a 20% chance of placing a [Provoke] debuff for 1 turn if the target has higher MAX HP than this Champion
Damage based on: [DEF]

Disarm Sweep
Attacks all enemies. Has a 60% chance of placing a 25% [Decrease ATK] debuff for 2 turns
Damage based on: [DEF]


Aura
Increases Ally DEF in Dungeons by 20%
Lore
Myrmidons are elite men-at-arms in the service of Banner Lords of Kaerok, equipped and trained to the best standards available in the Kingdom. Theirs is an ancient and proud name, one that can be traced back to the fearsome warriors who served the City-States before Kaerok came to be. Those were the dreaded heavy infantry, the mailed fist of any army the tyrants of old commanded. Their skill with the spears was legendary, and so was their resilience. Modern Myrmidons strive to be worthy of that legend, and only veteran soldiers who have survived countless battles against overwhelming odds may be honoured with the title. Their spears have been replaced with axes and maces and strong oaken shields, their armour adorned with the heraldry of their suzerains and badges of honour. Seeing these fearless heroes charge into the midst of enemy formations is an inspiring sight – unless you find yourself on the wrong side of a Myrmidon's axe, of course.
Ratings of Myrmidon
Location
Rating
Campaign
Arena
Offensive:
Defensive:
Clan boss
Without T6 mastery:
With T6 mastery:
Ice Golem's Peak
Dragon's Lair
Spider's Den
Fire Knight's Castle
Minotaur's Labyrinth
Force Keep
Magic Keep
Spirit Keep
Void Keep
Masteries advices
Advices regarding the mastery choice for Myrmidon.
T6: Warmaster or Giant Slayer?
Clan Boss
We don't have enough information about Myrmidon to determine whether he should have Warmaster or Giant Slayer as T6 mastery.
Arena
We recommend using Warmaster in the Arena, despite the number of hits any skill from Myrmidon does.
Recommended builds for Myrmidon
For Arena, Campaign, Faction Wars
by ayumilove
For Clan Boss, Dungeons
by ayumilove
Masteries for Myrmidon
For Arena, Campaign, Clan Boss, Dungeons, Faction Wars
by ayumilove
---
Updated on 2021-03-28