Occult Brawler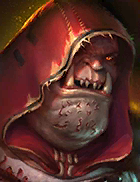 Sorcerous Razor
Attacks 1 enemy. Has a 50% chance of placing a 5% [Poison] debuff for 2 turns.
Damage based on: [ATK]

Curse Eater
Cooldown: 4 turns
Attacks 1 enemy. If this Champion is under 1 or more debuffs, this attack ignores 30% of enemy DEF. If this Champion is under 2 or more debuffs, enemies killed by this Skill cannot be revived. If this Champion is under 3 or more debuffs, this attack is always critical. If this Champion is under 4 or more debuffs, this Champion heals by 30% of the damage inflicted. If this Champion is under 5 or more debuffs, grants an Extra Turn. Removes all debuffs from this Champion after the attack.
Damage based on: [ATK]
Lore
Most regard Ogryns and their kin as brutes, little better than beasts. That usually serves the giants just fine as it helps them maintain a fearsome reputation. Still, exceptions can be found far more frequently than some would like to admit. From ingenious blacksmiths to tacticians and even scholars. Yes, surprising as it sounds, there are Ogryns who are not only capable of reading – a shocking notion within itself! – but actually enjoy learning. Of course, not all of them extend the effort for the sheer joy of learning. Some pursue entirely selfish, sometimes even dark goals. Such is the mysterious Ogryn cultist, whose brutish strength and tenacity are only exceeded by the terrible powers he wields. Covered in occult runes, he turns hexes and curses set upon him by the enemy magic-wielders upon them and their allies instead, using their essence to strengthen his attacks. But such corruption seldom comes without a price – it poisons the cultist's own flesh, driving him onwards to bring the curse to his foes.
Ratings of Occult Brawler
Location
Rating
Campaign
Arena
Offensive:
Defensive:
Clan boss
Without T6 mastery:
With T6 mastery:
Ice Golem's Peak
Dragon's Lair
Spider's Den
Fire Knight's Castle
Minotaur's Labyrinth
Force Keep
Magic Keep
Spirit Keep
Void Keep
Synergy
Occult Brawler's abilities can be paired with the following champions for better results.
Poison and Counterattack
Mixing a champion having A1 applying a Poison debuff, and a champion able to place a counterattack buff on him, is a very good situational synergy that can be impressive during Clan Boss battles.
Masteries advices
Advices regarding the mastery choice for Occult Brawler.
T6: Warmaster or Giant Slayer?
Clan Boss
We don't have enough information about Occult Brawler to determine whether he should have Warmaster or Giant Slayer as T6 mastery.
Arena
We recommend using Warmaster in the Arena, despite the number of hits any skill from Occult Brawler does.
Recommended builds for Occult Brawler
For Arena, Campaign, Faction Wars
by ayumilove
For Clan Boss, Dungeons
by ayumilove
For Clan Boss, Dungeons
by ayumilove
accuracy, accuracy, speed
Masteries for Occult Brawler
For Arena, Campaign, Clan Boss, Dungeons, Faction Wars
by ayumilove
Fusions
Occult Brawler is not part of any fusion
Great videos on Occult Brawler
---
Updated on 2021-03-28