Ogryn Jailer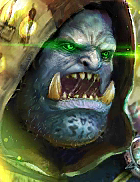 Lockdown
Attacks 1 enemy. Has a 40% chance of removing 1 random buff from the target.
Damage based on: [ATK]
Level 2 Damage +5%
Level 3 Damage +5%
Level 4 Buff/Debuff Chance +10%
Level 5 Buff/Debuff Chance +10%

Confiscate
Cooldown: 4 turns
Attacks 1 enemy. Has a 40% chance of stealing 2 random buffs from the target. places an extra hit if any buff is stolen.
Damage Based on: [ATK]
Level 2 Damage +10%
Level 3 Damage +10%
Level 4 Buff/Debuff Chance +10%
Level 5 Buff/Debuff Chance +10%
Level 6 Buff/Debuff Chance +15%
Level 7 Cooldown -1

Reprisal
Cooldown: 5 turns
Attacks 1 enemy. Damage increases by 20% if the target has no active buffs.
Damage Based on:[ATK]
Level 2 Damage +5%
Level 3 Damage +10%
Level 4 Damagel +15%
Level 5 Cooldown -1

Aura
Increases Ally ACC in Dungeons by 20
Lore
Ogryns are often not the smartest creatures, but there are many tasks and duties where brawn matters more than brains. Arguably, the position of a jailer does require some intellect – lest some dashing rogue tricks them into handing over the keys – but no one can deny the gravity of the intimidation factor that a warden of this sort (and size!) brings to the table. As if that was not enough, this particular Ogryn had been given the means of handling prisoners who either have a talent for magic or are in possession of magical artifacts. The runes carved into his flesh are terrible to behold, but they let this morose creature syphon the magic from his charges. And, sometimes, even turn it to strengthen himself.
Ratings of Ogryn Jailer
Location
Rating
Campaign
Arena
Offensive:
Defensive:
Clan boss
Without T6 mastery:
With T6 mastery:
Ice Golem's Peak
Dragon's Lair
Spider's Den
Fire Knight's Castle
Minotaur's Labyrinth
Force Keep
Magic Keep
Spirit Keep
Void Keep
Masteries advices
Advices regarding the mastery choice for Ogryn Jailer.
T6: Warmaster or Giant Slayer?
Clan Boss
We don't have enough information about Ogryn Jailer to determine whether he should have Warmaster or Giant Slayer as T6 mastery.
Arena
We recommend using Warmaster in the Arena, despite the number of hits any skill from Ogryn Jailer does.
Great videos on Ogryn Jailer
---
Updated on 2021-03-28