Ox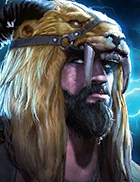 Onrush
Attacks 1 enemy. Fills this Champion's Turn Meter by 10% if this attack is critical.
Damage based on: [ATK]
Level 2 Damage +5%
Level 3 Damage +5%
Level 4 Damage +5%
Level 5 Damage +10%

Shatter Defenses
Cooldown: 3 turns
Attacks 1 enemy. Has a 60% chance of placing a 30% [Decrease DEF] debuff for 2 turns.
Damage based on: [ATK]
Level 2 Buff/Debuff Chance +5%
Level 3 Buff/Debuff Chance +5
Level 4 Buff/Debuff Chance +5%
Level 5 Buff/Debuff Chance +10%

Destroy Confidence
Cooldown: 4 turns
Attacks 1 enemy. Has a 50% chance of placing a [Block Cooldown Skills] debuff for 2 turns. Has an extra 15% chance of inflicting a critical hit.
Damage based on: [ATK]
Level 2 Buff/Debuff Chance +5%
Level 3 Buff/Debuff Chance +10'
Level 4 Buff/Debuff Chance +10%
Level 5 Cooldown -1

Aura
Increases Ally ATK in Faction Crypts by 18%
Lore
Nicknamed 'Ox' for his bullheaded nature, this Barbarian embodies many of the traits associated with his people. Strong, fearless, rather superstitious and stubborn. He is, nonetheless, a capable warrior that will fight with far more flexibility than his brutish looks would make one believe. Though fond of overwhelming his foes with relentless attacks, Ox knows when and where to strike to keep the enemy firmly on the defensive and unable to strike back with their full arsenal of deadly skills.
Ratings of Ox
Location
Rating
Campaign
Arena
Offensive:
Defensive:
Clan boss
Without T6 mastery:
With T6 mastery:
Ice Golem's Peak
Dragon's Lair
Spider's Den
Fire Knight's Castle
Minotaur's Labyrinth
Force Keep
Magic Keep
Spirit Keep
Void Keep
Masteries advices
Advices regarding the mastery choice for Ox.
T6: Warmaster or Giant Slayer?
Clan Boss
We recommend using Warmaster, the skill Onrush hits 1 time, which will benefit more to Warmaster than Giant Slayer.
Arena
We recommend using Warmaster in the Arena, despite the number of hits any skill from Ox does.
---
Updated on 2021-03-28