Perforator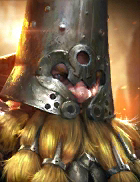 Scare Off
Cooldown: 2 turns
Has a 35% chance of placing a [Fear] debuff on the target for 1 turn when this champion inflicts a critical hit.
Level 2 Cooldown -1

Vermin Slayer
Attacks 1 enemy. Has a 30% chance of placing a 5% [Poison] debuff for 1 turns.
Damage based on: [ATK]
Level 2 Damage +5%
Level 3 Damage +10%
Level 4 Buff/Debuff Chance +5%
Level 5 Buff/Debuff Chance +5%
Level 6 Buff/Debuff Chance +10%

Hardened Tips
Cooldown: 4 turns
Attacks 1 enemy. Ignores 50% of the target's DEF. Grants an Extra Turn if this attack kills an enemy.
Damage based on: [ATK]
Level 2 Damage +5%
Level 3 Damage +5%
Level 4 Damage +10%
Level 5 Cooldown -1
Lore
When the threats in the tunnels connecting Dwarven towns and fortresses become too dire for the Militia alone to face, sworn men of the Jarls are sent out to reinforce them. These men-at-arms clear away any beasts and foes infesting the vital transport arteries that keep commerce in the Kingdom running, but they also have a place in the Dwarven Armies marching to war. Armed with powerful crossbows, Perforators excel at slaying large armoured beasts that dwell beneath the Mountains of Despair. They equally excel at handling heavily armoured foes thanks to the ingenious design of their weapons. And even if they fail to slay the target, wounds their quivers inflict are often more than enough to make a hasty retreat seem like the best possible option.
Ratings of Perforator
Location
Rating
Campaign
Arena
Offensive:
Defensive:
Clan boss
Without T6 mastery:
With T6 mastery:
Ice Golem's Peak
Dragon's Lair
Spider's Den
Fire Knight's Castle
Minotaur's Labyrinth
Force Keep
Magic Keep
Spirit Keep
Void Keep
Synergy
Perforator's abilities can be paired with the following champions for better results.
Poison and Counterattack
Mixing a champion having A1 applying a Poison debuff, and a champion able to place a counterattack buff on him, is a very good situational synergy that can be impressive during Clan Boss battles.
Masteries advices
Advices regarding the mastery choice for Perforator.
T6: Warmaster or Giant Slayer?
Clan Boss
We don't have enough information about Perforator to determine whether he should have Warmaster or Giant Slayer as T6 mastery.
Arena
We recommend using Warmaster in the Arena, despite the number of hits any skill from Perforator does.
Recommended builds for Perforator
For Arena, Campaign, Faction Wars
by ayumilove
ATK%, C.RATE, C.DMG, SPD, ACC
ATK%, C.RATE, C.DMG, SPD, ACC
ATK%, C.RATE, C.DMG, SPD, ACC
ATK%, C.RATE, C.DMG, SPD, ACC
For Clan Boss, Dungeons
by ayumilove
ATK%, C.RATE, C.DMG, SPD, ACC
ATK%, C.RATE, C.DMG, SPD, ACC
ATK%, C.RATE, C.DMG, SPD, ACC
ATK%, C.RATE, C.DMG, SPD, ACC
Masteries for Perforator
For Arena, Campaign, Clan Boss, Dungeons, Faction Wars
by ayumilove
---
Updated on 2021-03-28