Pitiless One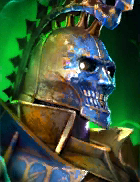 Split Arrow
Attacks 1 enemy 2 times. Each critical hit fills this Champion's Turn Meter by 5%.
Damage based on: [ATK]
Level 2: Damage +5%
Level 3: Damage +5%
Level 4: Damage +5%
Level 5: Damage +5%

Projectile Burst
Cooldown: 4 turns
Attacks all enemies. Each critical hit boosts this Champion's Turn Meter by 15%.
Damage based on: [ATK]
Level 2: Damage +5%
Level 3: Damage +5%
Level 4: Damage +5%
Level 5: Damage +10%
Level 6: Cooldown -1

Agony Bonds
Each critical hit heals this Champion by 15% of the damage inflicted.

Aura
Increases Ally C.RATE in all Battles by 19%
Lore
Clad in brass armour and bearing the grinning visage of Death, the Pitiless One does well to remain true to his title. His mind is as sharp as the razor-like arrowheads of his bolts, and many would-be heroes found their doom right after realizing they have been outmaneuvered. This fiend of a sharpshooter takes cold satisfaction in ensuring his every shot is a lethal one – whenever such precision is possible. But it is not just arrogance or perfectionism that drives the Pitiless One. Whatever dark magic binds him to his cruel weapon ensures that a perfect shot allows this Champion of evil to feed on the lifeblood of his victims. Invigorated and healed in such a manner, the Pitiless One can continue fighting even against overwhelming odds, and even strength in numbers may not be enough to bring him down.
Ratings of Pitiless One
Location
Rating
Campaign
Arena
Offensive:
Defensive:
Clan boss
Without T6 mastery:
With T6 mastery:
Ice Golem's Peak
Dragon's Lair
Spider's Den
Fire Knight's Castle
Minotaur's Labyrinth
Force Keep
Magic Keep
Spirit Keep
Void Keep
Masteries advices
Advices regarding the mastery choice for Pitiless One.
T6: Warmaster or Giant Slayer?
Clan Boss
We don't have enough information about Pitiless One to determine whether he should have Warmaster or Giant Slayer as T6 mastery.
Arena
We recommend using Warmaster in the Arena, despite the number of hits any skill from Pitiless One does.
Recommended builds for Pitiless One
For Arena, Campaign, Faction Wars
by ayumilove
For Arena, Campaign, Faction Wars
by ayumilove
For Arena, Campaign, Faction Wars
by ayumilove
For Clan Boss, Dungeons
by ayumilove
Masteries for Pitiless One
For Arena, Campaign, Clan Boss, Dungeons, Faction Wars
by ayumilove
Fusions
Pitiless One is not part of any fusion
---
Updated on 2021-03-28