Pitspawn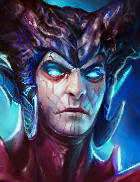 Evil Touch
Attacks 1 enemy.
Damage based on: [DEF]
Level 2 Damage +5%
Level 3 Damage +5%
Level 4 Damage +5%
Level 5 Damage +10%

Darkness
Cooldown: 4 turns
Attacks all enemies. Has a 25% chance of placing a 25% [Decrease ATK] debuff for 2 turns.
Damage based on: [DEF]
Level 2 Damage +5%
Level 3 Damage +10%
Level 4 Buff/Debuff Chance +5%
Level 5 Buff/Debuff Chance +10%
Level 6 Cooldown -1
Lore
In life once honored defenders of Teleria and knights of The Sacred Order, these fearsome Demonspawn were reborn in darkness to arise in their present form. In ages past, the former mortals pledged their loyaly to Siroth for for high demonic titles and privileges. But they were deceived… upon death, they were condemned to the lowest levels of the Pit, enslaved as footsoldiers in the armies of darkness, and cruelly granted the title "Little Lords of the Lie".
Ratings of Pitspawn
Location
Rating
Campaign
Arena
Offensive:
Defensive:
Clan boss
Without T6 mastery:
With T6 mastery:
Ice Golem's Peak
Dragon's Lair
Spider's Den
Fire Knight's Castle
Minotaur's Labyrinth
Force Keep
Magic Keep
Spirit Keep
Void Keep
Masteries advices
Advices regarding the mastery choice for Pitspawn.
T6: Warmaster or Giant Slayer?
Clan Boss
We don't have enough information about Pitspawn to determine whether he should have Warmaster or Giant Slayer as T6 mastery.
Arena
We recommend using Warmaster in the Arena, despite the number of hits any skill from Pitspawn does.
Recommended builds for Pitspawn
For Arena, Campaign, Faction Wars
by ayumilove
ATK%, C.RATE, C.DMG, SPD, ACC
ATK%, C.RATE, C.DMG, SPD, ACC
ATK%, C.RATE, C.DMG, SPD, ACC
ATK%, C.RATE, C.DMG, SPD, ACC
For Clan Boss, Dungeons
by ayumilove
ATK%, C.RATE, C.DMG, SPD, ACC
ATK%, C.RATE, C.DMG, SPD, ACC
ATK%, C.RATE, C.DMG, SPD, ACC
ATK%, C.RATE, C.DMG, SPD, ACC
Fusions
Pitspawn is not part of any fusion
---
Updated on 2021-03-28