Rae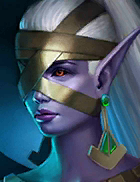 Corrode
Attacks all enemies. Has a 30% chance of placing a 60% [Decrease DEF] debuff for 2 turns.
Damage based on: [ATK]
Level 2 Damage +5%
Level 3 Damage +5%
Level 4 Damage +10%
Level 5 Buff/Debuff Chance +10%
Level 6 Buff/Debuff Chance +10%

Arcane Wave
Cooldown: 4 turns
Attacks all enemies. Inflicts 50% more damage against targets under debuffs.
Damage based on: [ATK]
Level 2 Damage +5%
Level 3 Damage +10%
Level 4 Damage +15%

Banish
Cooldown: 7 turns
Attacks all enemies. Removes all buffs. Has a 50% chance of placing a [Freeze] debuff for 1 turn.
Damage based on: [ATK]
Level 2 Damage +10%
Level 3 Buff/Debuff Chance +10%
Level 4 Buff/Debuff Chance +10%
Level 5 Cooldown -1

Aura
Increases Ally SPD in Dungeons by 33%
Lore
Among the scryers and shamans and astrologists of all colours, the gift of true foresight is a rare and precious thing. Many pursue it by means arcane, but that path can only lead to fleeting success, for the future is always in motion. Its shape is uncertain and fading, and no mortal eye is meant to witness it. Those who do manage to catch a glimpse are often left with more questions and vague interpretations than answers. The truth is simple and disconcerting. Foresight is not something that can be learned through years of study, it is a gift given by Lumaya herself… or a prize that is won not but through terrible sacrifice. For the Dark Elven sorceress Rae, a scion of an ancient and noble bloodline, this sacrifice was both spiritual and physical. But while she may have given up an eye for a taste of power, it can now gaze far beyond the veil of reality. This inner sight grows clearer when days wane and winter solstice creeps ever-closer. And now, at the turning point of the decade, Rae speaks of a new vision that fills her dream and waking hours. She speaks of the frozen wastes of the Winterlands, of the tundra that stretches south towards the Mountains of Despair. Of mysterious warriors that march through blizzards that would chill the blood of the living. They bring with them knowledge long-forgotten and skills unseen. Whoever these strangers are, it surely would be wise to secure their allegiance or, failing that, steel yourself and your Champions to battle against foes unknown.
Ratings of Rae
Location
Rating
Campaign
Arena
Offensive:
Defensive:
Clan boss
Without T6 mastery:
With T6 mastery:
Ice Golem's Peak
Dragon's Lair
Spider's Den
Fire Knight's Castle
Minotaur's Labyrinth
Force Keep
Magic Keep
Spirit Keep
Void Keep
Masteries advices
Advices regarding the mastery choice for Rae.
T6: Warmaster or Giant Slayer?
Clan Boss
We recommend using Warmaster, the skill Corrode hits 1 time, which will benefit more to Warmaster than Giant Slayer.
Arena
We recommend using Warmaster in the Arena, despite the number of hits any skill from Rae does.
Masteries for Rae
For Arena, Campaign, Faction Wars
by ayumilove
For Clan Boss, Dungeons
by ayumilove
Fusions
Rae is not part of any fusion
---
Updated on 2021-03-28