Rearguard Sergeant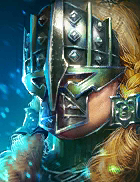 Skills of Rearguard Sergeant

Crushing Impact
Attacks 1 enemy. Has a 40% chance of placing a 60% [Decrease DEF] debuff for 2 turns.
Damage based on: [DEF]
Level 2: Damage +5%
Level 3: Damage +5%
Level 4: Damage +5%
Level 5: Buff/Debuff Chance +10%

Flail Master
Cooldown: 4 turns
Attacks all enemies. Has a 50% chance of placing a 50% [Decrease ATK] debuff for 2 turns. Heals this Champion by 25% of the damage inflicted.
Damage based on: [DEF]
Level 2: Damage +5%
Level 3: Damage +5%
Level 4: Damage +10%
Level 5: Damage +10%
Level 6: Buff/Debuff Chance +10%
Level 7: Buff/Debuff Chance +15%
Level 8: Cooldown -1

Fend Them Off
Cooldown: 5 turns
Places a 50% [Ally Protection] buff and a 15% [Continuous Heal] buff on all allies except this Champion for 2 turns.
Level 2: Cooldown -1
Level 3: Cooldown -1

Aura
Increases Force Ally HP in all Battles by 33%
Lore
Fighting as part of the rearguard is not as easy as some may imagine. Indeed, theirs is a crucial role and theirs is the sacrifice, should the main force need to withdraw. While it may not always be possible to keep the best warriors behind, the Dwarves know that officers, at least, ought to be both experienced and skilled. The Rearguard Sergeant has been in her Jarl's service for many years and has not failed him once. She is a stern taskmaster, but an expert of her craft. Her heavy flail had smashed many a foe, sundering armour and weapons alike in a single fell sweep. But for all her bluster and overbearing habits, she embraces her duty and the need to protect others. Indeed, the Sergeant will often stand at the forefront of her band of Champions and intercept any enemy attacks that she can while her allies recover. Such loyalty is hard to come by and ought to be valued by any warrior.
Ratings of Rearguard Sergeant
Location
Rating
Campaign
Arena
Offensive:
Defensive:
Clan boss
Without T6 mastery:
With T6 mastery:
Ice Golem's Peak
Dragon's Lair
Spider's Den
Fire Knight's Castle
Minotaur's Labyrinth
Force Keep
Magic Keep
Spirit Keep
Void Keep
Masteries advices
Advices regarding the mastery choice for Rearguard Sergeant.
T6: Warmaster or Giant Slayer?
Clan Boss
We don't have enough information about Rearguard Sergeant to determine whether he should have Warmaster or Giant Slayer as T6 mastery.
Arena
We recommend using Warmaster in the Arena, despite the number of hits any skill from Rearguard Sergeant does.
Recommended builds for Rearguard Sergeant
For Arena, Campaign, Faction Wars
by ayumilove
DEF%, HP%, C.RATE, C.DMG, SPD, ACC
DEF%, HP%, C.RATE, C.DMG, SPD, ACC
DEF%, HP%, C.RATE, C.DMG, SPD, ACC
DEF%, HP%, C.DMG, SPD, ACC
HP%, C.RATE, C.DMG, SPD, ACC
DEF%, HP%, C.RATE, C.DMG, ACC
DEF%, HP%, C.RATE, C.DMG, SPD, ACC
DEF%, HP%, C.RATE, SPD, ACC
DEF%, HP%, C.RATE, C.DMG, SPD
For Clan Boss, Dungeons
by ayumilove
DEF%, HP%, C.RATE, C.DMG, SPD, ACC
DEF%, HP%, C.RATE, C.DMG, SPD, ACC
DEF%, HP%, C.RATE, C.DMG, SPD, ACC
DEF%, HP%, C.DMG, SPD, ACC
HP%, C.RATE, C.DMG, SPD, ACC
DEF%, HP%, C.RATE, C.DMG, ACC
DEF%, HP%, C.RATE, C.DMG, SPD, ACC
DEF%, HP%, C.RATE, SPD, ACC
DEF%, HP%, C.RATE, C.DMG, SPD
For Clan Boss, Dungeons
by ayumilove
DEF%, HP%, C.RATE, C.DMG, SPD, ACC
DEF%, HP%, C.RATE, C.DMG, SPD, ACC
DEF%, HP%, C.RATE, C.DMG, SPD, ACC
DEF%, HP%, C.DMG, SPD, ACC
HP%, C.RATE, C.DMG, SPD, ACC
DEF%, HP%, C.RATE, C.DMG, ACC
DEF%, HP%, C.RATE, C.DMG, SPD, ACC
DEF%, HP%, C.RATE, SPD, ACC
DEF%, HP%, C.RATE, C.DMG, SPD
Masteries for Rearguard Sergeant
For Arena, Campaign, Faction Wars
by ayumilove
For Clan Boss, Dungeons
by ayumilove
For Clan Boss
by ayumilove
Fusions
Rearguard Sergeant is not part of any fusion
Great videos on Rearguard Sergeant
---
Updated on 2021-03-28