Rector Drath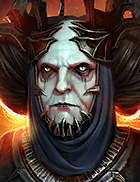 Scepter of Authority
Attacks 1 enemy. Has a 35% chance of placing a 50% [Decrease ATK] debuff for 2 turns.
Level 2: Damage +5%
Level 3: Damage +5%
Level 4: Buff/Debuff Chance +5%
Level 5: Buff/Debuff Chance +5%
Level 6: Buff/Debuff Chance +5%
Damage Multiplier: 4 ATK
Damage based on: [ATK]

Necro Mutation
Cooldown: 5 turns
Heals all allies by 20% of this Champion's MAX HP. After healing, places a [Perfect Veil] buff for 2 turns on all allies with full HP. Places a 15% [Continuous Heal] buff for 1 turn instead on all allies with less than 100% HP.
Level 2: Heal +5%
Level 3: Heal +5%
Level 4: Heal +10%
Level 5: Cooldown -1

Spirit Form
Cooldown: 6 turns
Revives a single ally with 60% HP and fills their Turn Meter by 60%. Places a [Perfect Veil] buff on them for 3 turns.
Level 2: Cooldown -1
Level 3: Cooldown -1

Master of Ghosts
Whenever an ally under a [Veil] or [Perfect Veil] buff gets a turn, heals them by 10% of their MAX HP. Also increases the RES of allies under [Veil] or [Perfect Veil] buffs by 50. Will only increase RES once per ally if there are multiple Rectors on the team.

Aura
Increases Ally RES in Doom Tower by 55.
Ratings of Rector Drath
Location
Rating
Campaign
Arena
Offensive:
Defensive:
Clan boss
Without T6 mastery:
With T6 mastery:
Ice Golem's Peak
Dragon's Lair
Spider's Den
Fire Knight's Castle
Minotaur's Labyrinth
Force Keep
Magic Keep
Spirit Keep
Void Keep
Masteries advices
Advices regarding the mastery choice for Rector Drath.
T6: Warmaster or Giant Slayer?
Clan Boss
We don't have enough information about Rector Drath to determine whether he should have Warmaster or Giant Slayer as T6 mastery.
Arena
We recommend using Warmaster in the Arena, despite the number of hits any skill from Rector Drath does.
Fusions
Rector Drath is not part of any fusion
Great videos on Rector Drath
---
Updated on 2021-03-28