Reinbeast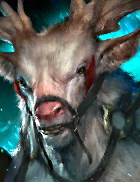 Caning
Attacks 1 enemy. Places a 15% [Continuous Heal] buff on the ally with the lowest HP for 1 turn.
Damage based on: [DEF]
Level 2 Damage +5%
Level 3 Damage +5%
Level 4 Damage +5%

Open Slay
Cooldown: 5 turns
Attacks 1 enemy 2 times. Revives a random ally with full HP if this attack kills the enemy.
Damage based on: [DEF]
Level 2 Damage +5%
Level 3 Damage +5%
Level 4 Damage +5%
Level 5 Damage +5%
Lore
An outcast among outcasts, the Reinbeast's very survival is as much a miracle as it is a testament to his strength and determination. Born in the darkest depths of the Durkham Forest on a cold winter morning, he was immediately marked by the strange colour of his coat and a glowing red nose. All through his childhood, the Reinbeast had to fight all those who would see him cast out. Yet beatings and cruelty only hardened the poor creature and taught him to stand tall and proud no matter the hardship. But on one stormy night, when the wind howled like a wounded dragon among the twisted and gnarled trees of Durkham, and a terrible blizzard swept the land, his fate was changed forever. Forced out into the night by his tribe's chief on a fool's errand that was no doubt meant to see him dead, the Reinbeast came across a most confusing sight. A sleigh full of strange items stood there, encased by ice, and a man clad in armour of silver and red worked tirelessly to fix the damage. A small pack of reindeers shivered at his side, cold and tired, no longer able to pull the heavy carriage. Though suspicious at first, the Reinbeast was moved by the pure light that seemed to be emanating from that mysterious human, and the care he showed in trying to help his exhausted steeds. He approached, cautiously, and offered help in a broken Common tongue. To his surprise, the man's own words boomed within his mind loud and clear, as if spoken by one of his own people. Sir Nicholas, as the strange introduced himself, was most grateful for the aid. And with the Reinbeast now placed in the lead, his own reindeers finally managed to free the sleigh and press on their way. With magic beyond imagining, they went across Teleria in a single night to reward the just and punish the wicked, with the Reinbeast's glowing nose leading their way. It was no surprise that when offered a single wish for his selfless help, the Reinbeast asked to remain in Sir Nicholas' service – and thus he has remained for centuries, pulling the mighty sleigh through blizzards and storms, and fighting at Sir Nicholas' side when such a need arose.
Ratings of Reinbeast
Location
Rating
Campaign
Arena
Offensive:
Defensive:
Clan boss
Without T6 mastery:
With T6 mastery:
Ice Golem's Peak
Dragon's Lair
Spider's Den
Fire Knight's Castle
Minotaur's Labyrinth
Force Keep
Magic Keep
Spirit Keep
Void Keep
Masteries advices
Advices regarding the mastery choice for Reinbeast.
T6: Warmaster or Giant Slayer?
Clan Boss
We recommend using Warmaster, the skill Caning hits 1 time, which will benefit more to Warmaster than Giant Slayer.
Arena
We recommend using Warmaster in the Arena, despite the number of hits any skill from Reinbeast does.
Recommended builds for Reinbeast
For everywhere
by ayumilove
DEF%, HP%, C.RATE, C.DMG, SPD, RES
DEF%, HP%, C.RATE, C.DMG, SPD, RES
DEF%, HP%, C.RATE, C.DMG, SPD, RES
DEF%, HP%, C.DMG, SPD, RES
HP%, C.RATE, C.DMG, SPD, RES
DEF%, HP%, C.RATE, C.DMG, RES
DEF%, HP%, C.RATE, C.DMG, SPD, RES
DEF%, HP%, C.RATE, SPD, RES
DEF%, HP%, C.RATE, C.DMG, SPD
For everywhere
by ayumilove
DEF%, HP%, C.RATE, C.DMG, SPD, RES
DEF%, HP%, C.RATE, C.DMG, SPD, RES
DEF%, HP%, C.RATE, C.DMG, SPD, RES
DEF%, HP%, C.DMG, SPD, RES
HP%, C.RATE, C.DMG, SPD, RES
DEF%, HP%, C.RATE, C.DMG, RES
DEF%, HP%, C.RATE, C.DMG, SPD, RES
DEF%, HP%, C.RATE, SPD, RES
DEF%, HP%, C.RATE, C.DMG, SPD
Masteries for Reinbeast
For Arena, Campaign, Clan Boss, Dungeons, Faction Wars
by ayumilove
Fusions
Reinbeast is not part of any fusion
---
Updated on 2021-03-28