Reliquary Tender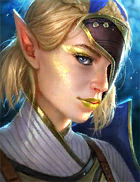 Skills of Reliquary Tender

Warden Staff
Attacks 1 enemy. Has a 20% chance of placing a 25% [Decrease ATK] debuff for 2 turns.
Damage based on: [ATK]
Level 2 Damage +5%
Level 3 Buff/Debuff Chance +5%
Level 4 Damage +5%
Level 5 Buff/Debuff Chance +5%
Level 6 Damage +5%
Level 7 Buff/Debuff Chance +10%
Level 8 Damage +10%
Level 9 Buff/Debuff Chance +10%

Tender Watch
Removes all debuffs from all allies, then places a 15% [Continuous Heal] buff on them for 2 turns.
Level 2 Cooldown -1
Level 3 Cooldown -1

Call to Life
Cooldown: 6 turns
Revives an ally with 30% HP and fills their Turn Meter by 30%
Level 2 Cooldown -1
Lore
The High Elves of Aravia have accumulated a great many relics over the long centuries of their dominance in Teleria. Some of these are dark, accursed things, tainted by forbidden magic or, worse, by the touch of Siroth's evil. But for every item of dark lore, there is its polar opposite – an artifact steeped in benevolent energies of Lumaya's Light, or simply grand nexuses of raw magic. To be a caretaker of these ancient reliquaries is a rare honour indeed, and only mages whose heart is pure beyond question are granted this responsibility. It is not often they see battle, but if they do, the Reliquary Tenders bring forth the full might of their knowledge to empower their allies or heal their wounds. Some of the items in their possession even have the power to bring the dead back to life, and that is a power that can turn the tides of battle in an instant.
Ratings of Reliquary Tender
Location
Rating
Campaign
Arena
Offensive:
Defensive:
Clan boss
Without T6 mastery:
With T6 mastery:
Ice Golem's Peak
Dragon's Lair
Spider's Den
Fire Knight's Castle
Minotaur's Labyrinth
Force Keep
Magic Keep
Spirit Keep
Void Keep
Masteries advices
Advices regarding the mastery choice for Reliquary Tender.
T6: Warmaster or Giant Slayer?
Clan Boss
We don't have enough information about Reliquary Tender to determine whether he should have Warmaster or Giant Slayer as T6 mastery.
Arena
We recommend using Warmaster in the Arena, despite the number of hits any skill from Reliquary Tender does.
Recommended builds for Reliquary Tender
For Arena, Campaign, Faction Wars
by ayumilove
For Arena, Campaign, Faction Wars
by ayumilove
For Arena, Campaign, Faction Wars
by ayumilove
For Arena, Campaign, Faction Wars
by ayumilove
For Clan Boss, Dungeons
by ayumilove
immortal, immortal, resist
For Clan Boss, Dungeons
by ayumilove
For Clan Boss, Dungeons
by ayumilove
For Clan Boss, Dungeons
by ayumilove
Masteries for Reliquary Tender
For Arena, Campaign, Clan Boss, Dungeons, Faction Wars
by ayumilove
Great videos on Reliquary Tender
---
Updated on 2021-03-28