Retainer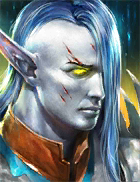 Sundering Chop
Attacks 1 enemy. Has a 40% chance of placing a 30% [Decrease DEF] debuff for 2 turns.
Damage based on: [DEF]
Level 2 Damage +5%
Level 3 Damage +5% Lvi. 4 Buff/Debuff Chance +10%

Resolute Stance
Cooldown: 4 turns
Heals this Champion by 40% of their MAX HP and places a [Counterattack] buff on this Champion for 2 turns.
Level 2 Heal +5%
Level 3 Heal +5%
Level 4 Heal +5%
Level 5 Cooldown -1

Hypnotize
Cooldown: 5 turns
Attacks 1 enemy. Decreases the target's Turn Meter by 50%. If the target's Turn Meter is fully depleted, places a [Sleep] debuff on them for 1 turn.
Damage based on: [DEF]
Level 2 Damage +5%
Level 3 Damage +5%
Level 4 Damage +10%
Level 5 Damage +10%
Level 6 Cooldown -1

Aura
Increases Ally DEF in Faction Crypts by 19%
Lore
The Retainer is a fiercely loyal warrior in the service of one of the ancient and noble Dark Elven houses. Sworn to service until death or dismissal, he wields a blade crafted in the forges of Fire Knight's Keep, and quenched in the blood of orcs – a blade he is honor-bound to fall upon should his Lord die in battle. Like all in service to his master's house, his armor and hair are dyed a bold azure – a sign of the unbreakable faith in his liege. A master swordsman, the Retainer also possesses the elven gift of hypnosis.
Ratings of Retainer
Location
Rating
Campaign
Arena
Offensive:
Defensive:
Clan boss
Without T6 mastery:
With T6 mastery:
Ice Golem's Peak
Dragon's Lair
Spider's Den
Fire Knight's Castle
Minotaur's Labyrinth
Force Keep
Magic Keep
Spirit Keep
Void Keep
Masteries advices
Advices regarding the mastery choice for Retainer.
T6: Warmaster or Giant Slayer?
Clan Boss
We recommend using Warmaster, the skill Sundering Chop hits 1 time, which will benefit more to Warmaster than Giant Slayer.
Arena
We recommend using Warmaster in the Arena, despite the number of hits any skill from Retainer does.
Recommended builds for Retainer
For Arena, Campaign, Faction Wars
by ayumilove
DEF%, C.RATE, C.DMG, SPD, ACC
DEF%, C.RATE, C.DMG, SPD, ACC
DEF%, C.RATE, C.DMG, SPD, ACC
DEF%, C.RATE, C.DMG, SPD, ACC
For Arena, Campaign, Faction Wars
by ayumilove
DEF%, C.RATE, C.DMG, SPD, ACC
DEF%, C.RATE, C.DMG, SPD, ACC
DEF%, C.RATE, C.DMG, SPD, ACC
DEF%, C.RATE, C.DMG, SPD, ACC
For Arena, Campaign, Faction Wars
by ayumilove
DEF%, C.RATE, C.DMG, SPD, ACC
DEF%, C.RATE, C.DMG, SPD, ACC
DEF%, C.RATE, C.DMG, SPD, ACC
DEF%, C.RATE, C.DMG, SPD, ACC
For Clan Boss, Dungeons
by ayumilove
DEF%, C.RATE, C.DMG, SPD, ACC
DEF%, C.RATE, C.DMG, SPD, ACC
DEF%, C.RATE, C.DMG, SPD, ACC
DEF%, C.RATE, C.DMG, SPD, ACC
For Clan Boss, Dungeons
by ayumilove
DEF%, C.RATE, C.DMG, SPD, ACC
DEF%, C.RATE, C.DMG, SPD, ACC
DEF%, C.RATE, C.DMG, SPD, ACC
DEF%, C.RATE, C.DMG, SPD, ACC
Masteries for Retainer
For Arena, Campaign, Clan Boss, Dungeons, Faction Wars
by ayumilove
---
Updated on 2021-03-28