Rian the Conjurer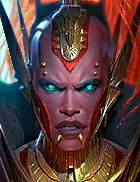 Skills of Rian the Conjurer

Magma Ball
Attacks 1 enemy. Has a 50% chance of placing a [Block Buffs] debuff for 2 turns.
Damage based on: [ATK]
Level 2: Damage +5%
Level 3: Buff/Debuff Chance +5%
Level 4: Damage +5%
Level 5: Buff/Debuff Chance +5%
Level 6: Damage +10%
Level 7: Buff/Debuff Chance +10%
Damage Multiplier: 4.6 ATK

Sweeping Dismissal
Cooldown: 4 turns
Has a 75% chance of removing all buffs from all enemies. Also has a 75% chance of placing a 25% [Weaken] debuff on all enemies for 2 turns.
Level 2: Buff/Debuff Chance +5%
Level 3: Buff/Debuff Chance +5%
Level 4: Buff/Debuff Chance +5%
Level 5: Buff/Debuff Chance +10%
Level 6: Cooldown -1

Master of Summons
Cooldown: 6 turns
Revives a dead ally with 50% HP and 50% Turn Meter, then places a [Block Debuffs] buff on them for 2 turns. Will also revive Akoth the Seared or Urost the Soulcage with 30% HP and 30% Turn Meter if they are on the same team and not the target of the skill. If either Akoth the Seared or Urost the Soulcage are the target of the skill, that Champion will be revived with 50% HP and 50% Turn Meter, and a [Block Debuffs] buff for 2 turns.
Level 2: Cooldown -1
Level 3: Cooldown -1

Aura
Increases Ally ACC in all Battles by 40.
Ratings of Rian the Conjurer
Location
Rating
Campaign
Arena
Offensive:
Defensive:
Clan boss
Without T6 mastery:
With T6 mastery:
Ice Golem's Peak
Dragon's Lair
Spider's Den
Fire Knight's Castle
Minotaur's Labyrinth
Force Keep
Magic Keep
Spirit Keep
Void Keep
Masteries advices
Advices regarding the mastery choice for Rian the Conjurer.
T6: Warmaster or Giant Slayer?
Clan Boss
We don't have enough information about Rian the Conjurer to determine whether he should have Warmaster or Giant Slayer as T6 mastery.
Arena
We recommend using Warmaster in the Arena, despite the number of hits any skill from Rian the Conjurer does.
Masteries for Rian the Conjurer
For Arena, Campaign, Clan Boss, Dungeons, Faction Wars
by ayumilove
Fusions
Rian the Conjurer is not part of any fusion
---
Updated on 2021-03-28