Romero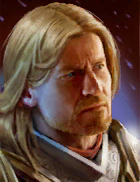 Bring Hope
Attacks 1 enemy. Places a 7.5% [Continuous Heal] on the ally with the lowest HP for 1 turn.
Damage based on: [DEF]
Level 2 Damage +5%
Level 3 Damage +5%
Level 4 Damage +5%
Level 5 Damage +10%

Succor
Cooldown: 5 turns
Places a 15% [Continuous Heal] buff on all allies for 2 turns. Steals 1 buff from a random enemy.
Level 2 Cooldown -1

Divine Benefaction
Cooldown: 6 turns
Places a [Shield] buff on all allies equal to 25% of their MAX HP for 2 turns. Places a 30% [Increase DEF) buff on this Champion for 2 turns.
Level 3 Shield +25%

Stalwart Partner
Cooldown: 3 turns
Attacks all enemies 3 times. Only available when Juliana is on the same team.
Lore
But, of course, it is not just love that is marked by divine intervention or tragedy that is worthy of the minstrel's attention. Those are merely good for the dramatic flair that those knights of the lute do so enjoy. More often than not, love overcomes obstacles that are less grand on a cosmic scale, yet no less difficult for the mortals who find themselves entwined. The Sacred Order as a whole, while not necessarily enforcing a Vow of Chastity, does forbid its members from having families and heirs – a precaution to make certain positions of power within the Order pass on by right of virtue, not that of blood. Undue attachment is heavily frowned upon as well, outright forbidden in some of the stricter Divisions of the Order. It is no surprise then, that the Knights Romero and Juliana had never thought of themselves falling in love. Romero, ever coolheaded and pious found himself at odds with the young and brash Juliana, whose skill with the blade and fiery zeal led her to many mortal perils that she, to the young Knight's credit, honourably overcame. But a life full of battles does tend to make emotions run wild. In time, the two warmed up to one another's "quirks", learned to appreciate them even. Their eventual union, though it may never be formalized by marriage, remains true and tested. Neither did that union affect their relationship as comrades-in-arms, if anything it allowed the two Knights to fight as one. Where Romero's natural cautiousness may lead to him losing momentum, Juliana's brazen but no less skillful tactics ensure that their forces control the initiative. And where Juliana may begin losing herself in the heat of battle, Romero is always there to serve as an anchor of reason. To this day, they remain among the Order's prominent warriors and are ready to bring Lumaya's light wherever it is needed most.
Ratings of Romero
Location
Rating
Campaign
Arena
Offensive:
Defensive:
Clan boss
Without T6 mastery:
With T6 mastery:
Ice Golem's Peak
Dragon's Lair
Spider's Den
Fire Knight's Castle
Minotaur's Labyrinth
Force Keep
Magic Keep
Spirit Keep
Void Keep
Masteries advices
Advices regarding the mastery choice for Romero.
T6: Warmaster or Giant Slayer?
Clan Boss
We recommend using Warmaster, the skill Bring Hope hits 1 time, which will benefit more to Warmaster than Giant Slayer.
Arena
We recommend using Warmaster in the Arena, despite the number of hits any skill from Romero does.
Recommended builds for Romero
For everywhere
by ayumilove
For everywhere
by ayumilove
Masteries for Romero
For Arena, Campaign, Faction Wars
by ayumilove
For Clan Boss, Dungeons
by ayumilove
Fusions
Romero is not part of any fusion
---
Updated on 2021-03-28