Runic Warder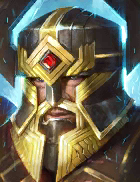 Twin Chops
Attacks 1 enemy 2 times.
Damage based on: [HP]

Superior Steel
Cooldown: 3 turns
Attacks 1 enemy 2 times. Each hit has a 30% chance of placing a 50% [Decrease ATK] debuff for 2 turns.
Damage based on: [HP]

Lore
According to Dwarven Legends, the First Smith had bestowed the Runic alphabet upon his children. Through it, he imbued them with a sliver of his divine genius and ensured the Dwarves would remain the best blacksmiths Teleria has ever seen. It is no surprise then that the Children of Stone revere these ancient Runes and use them extensively in both their craft and their religious ceremonies. Runic Wardens, in particular, are honoured warriors and priests both, whose example guides their kin in the times of peace and in the times of war alike. Clad in the finest gilded armour, the Wardens lead the charge, bolstering their allies and baffling the enemy. Their knowledge of runecraft allows these Champions to enhance those who fight at their side with arcane protection and even heal injuries, sustained in righteous battle.
Ratings of Runic Warder
Location
Rating
Campaign
Arena
Offensive:
Defensive:
Clan boss
Without T6 mastery:
With T6 mastery:
Ice Golem's Peak
Dragon's Lair
Spider's Den
Fire Knight's Castle
Minotaur's Labyrinth
Force Keep
Magic Keep
Spirit Keep
Void Keep
Masteries advices
Advices regarding the mastery choice for Runic Warder.
T6: Warmaster or Giant Slayer?
Clan Boss
We don't have enough information about Runic Warder to determine whether he should have Warmaster or Giant Slayer as T6 mastery.
Arena
We recommend using Warmaster in the Arena, despite the number of hits any skill from Runic Warder does.
Recommended builds for Runic Warder
For Arena, Campaign, Faction Wars
by ayumilove
immortal, immortal, speed
HP%, C.RATE, C.DMG, SPD, ACC
HP%, C.RATE, C.DMG, SPD, ACC
HP%, C.RATE, C.DMG, SPD, ACC
HP%, C.RATE, C.DMG, SPD, ACC
For Arena, Campaign, Faction Wars
by ayumilove
HP%, C.RATE, C.DMG, SPD, ACC
HP%, C.RATE, C.DMG, SPD, ACC
HP%, C.RATE, C.DMG, SPD, ACC
HP%, C.RATE, C.DMG, SPD, ACC
For Clan Boss, Dungeons
by ayumilove
HP%, C.RATE, C.DMG, SPD, ACC
HP%, C.RATE, C.DMG, SPD, ACC
HP%, C.RATE, C.DMG, SPD, ACC
HP%, C.RATE, C.DMG, SPD, ACC
For Clan Boss, Dungeons
by ayumilove
HP%, C.RATE, C.DMG, SPD, ACC
HP%, C.RATE, C.DMG, SPD, ACC
HP%, C.RATE, C.DMG, SPD, ACC
HP%, C.RATE, C.DMG, SPD, ACC
Masteries for Runic Warder
For Arena, Campaign, Faction Wars
by ayumilove
For Clan Boss, Dungeons
by ayumilove
---
Updated on 2021-03-28