Seneschal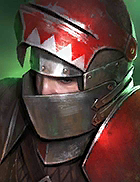 Bloodied Mace
Attacks 1 enemy. Has a 30% chance of placing a [Leech] debuff for 2 turns.
Damage based on: [DEF] [ATK]
Level 2: Damage +5%
Level 3: Damage +5%
Level 4: Damage +5%
Level 5: Buff/Debuff Chance +10%


Lordly Challenge
Cooldown: 5 turns
Places a [Counterattack] buff on this Champion for 2 turns. Has a 50% chance of placing a [Provoke] debuff on all enemies for 1 turn.
Level 2: Buff/Debuff Chance +10%
Level 3: Buff/Debuff Chance +10%
Level 4: Buff/Debuff Chance +10%
Level 5: Buff/Debuff Chance +10%
Level 6: Buff/Debuff Chance +10%
Level 7: Cooldown -1
Lore
It is a Seneschal's sacred duty to enact Royal decrees in the province entrusted to him by the King of Kaerok. He represents the King's unwavering authority in all facets of life, and that includes warfare. Thus, a Seneschal must always be a Knight without fear or blame. And while those ideals are not always followed by the nobility, Royal agents come under greater scrutiny. Thus the Seneschal stands a pillar of courage and pride among his allies, ready to issue a bellowing challenge to any foes that dare stand against him. But exquisite plate armour and a heavy mace paired with a shield are not the only advantages at the Seneschal's disposal. As an agent of the Crown, he is granted access to the potions brewed by the Court Wizards. Some potent healing salves to keep the mighty Champion and his retinue alive are sure to come useful, while others go as far as turning whoever takes the potion invisible to the eye of the foe.
Ratings of Seneschal
Location
Rating
Campaign
Arena
Offensive:
Defensive:
Clan boss
Without T6 mastery:
With T6 mastery:
Ice Golem's Peak
Dragon's Lair
Spider's Den
Fire Knight's Castle
Minotaur's Labyrinth
Force Keep
Magic Keep
Spirit Keep
Void Keep
Masteries advices
Advices regarding the mastery choice for Seneschal.
T6: Warmaster or Giant Slayer?
Clan Boss
We recommend using Warmaster, the skill Bloodied Mace hits 0 time, which will benefit more to Warmaster than Giant Slayer.
Arena
We recommend using Warmaster in the Arena, despite the number of hits any skill from Seneschal does.
Recommended builds for Seneschal
For Arena, Campaign, Faction Wars
by ayumilove
DEF%, HP%, C.RATE, C.DMG, SPD, ACC
DEF%, HP%, C.RATE, C.DMG, SPD, ACC
DEF%, HP%, C.RATE, C.DMG, SPD, ACC
DEF%, HP%, C.DMG, SPD, ACC
HP%, C.RATE, C.DMG, SPD, ACC
DEF%, HP%, C.RATE, C.DMG, ACC
DEF%, HP%, C.RATE, C.DMG, SPD, ACC
DEF%, HP%, C.RATE, SPD, ACC
DEF%, HP%, C.RATE, C.DMG, SPD
For Arena, Campaign, Faction Wars
by ayumilove
accuracy, accuracy, speed
DEF%, HP%, C.RATE, C.DMG, SPD, ACC
DEF%, HP%, C.RATE, C.DMG, SPD, ACC
DEF%, HP%, C.RATE, C.DMG, SPD, ACC
DEF%, HP%, C.DMG, SPD, ACC
HP%, C.RATE, C.DMG, SPD, ACC
DEF%, HP%, C.RATE, C.DMG, ACC
DEF%, HP%, C.RATE, C.DMG, SPD, ACC
DEF%, HP%, C.RATE, SPD, ACC
DEF%, HP%, C.RATE, C.DMG, SPD
For Arena, Campaign, Faction Wars
by ayumilove
DEF%, HP%, C.RATE, C.DMG, SPD, ACC
DEF%, HP%, C.RATE, C.DMG, SPD, ACC
DEF%, HP%, C.RATE, C.DMG, SPD, ACC
DEF%, HP%, C.DMG, SPD, ACC
HP%, C.RATE, C.DMG, SPD, ACC
DEF%, HP%, C.RATE, C.DMG, ACC
DEF%, HP%, C.RATE, C.DMG, SPD, ACC
DEF%, HP%, C.RATE, SPD, ACC
DEF%, HP%, C.RATE, C.DMG, SPD
For Arena, Campaign, Faction Wars
by ayumilove
accuracy, defense, defense
DEF%, HP%, C.RATE, C.DMG, SPD, ACC
DEF%, HP%, C.RATE, C.DMG, SPD, ACC
DEF%, HP%, C.RATE, C.DMG, SPD, ACC
DEF%, HP%, C.DMG, SPD, ACC
HP%, C.RATE, C.DMG, SPD, ACC
DEF%, HP%, C.RATE, C.DMG, ACC
DEF%, HP%, C.RATE, C.DMG, SPD, ACC
DEF%, HP%, C.RATE, SPD, ACC
DEF%, HP%, C.RATE, C.DMG, SPD
For Clan Boss, Dungeons
by ayumilove
DEF%, HP%, C.RATE, C.DMG, SPD, ACC
DEF%, HP%, C.RATE, C.DMG, SPD, ACC
DEF%, HP%, C.RATE, C.DMG, SPD, ACC
DEF%, HP%, C.DMG, SPD, ACC
HP%, C.RATE, C.DMG, SPD, ACC
DEF%, HP%, C.RATE, C.DMG, ACC
DEF%, HP%, C.RATE, C.DMG, SPD, ACC
DEF%, HP%, C.RATE, SPD, ACC
DEF%, HP%, C.RATE, C.DMG, SPD
For Clan Boss, Dungeons
by ayumilove
accuracy, accuracy, speed
DEF%, HP%, C.RATE, C.DMG, SPD, ACC
DEF%, HP%, C.RATE, C.DMG, SPD, ACC
DEF%, HP%, C.RATE, C.DMG, SPD, ACC
DEF%, HP%, C.DMG, SPD, ACC
HP%, C.RATE, C.DMG, SPD, ACC
DEF%, HP%, C.RATE, C.DMG, ACC
DEF%, HP%, C.RATE, C.DMG, SPD, ACC
DEF%, HP%, C.RATE, SPD, ACC
DEF%, HP%, C.RATE, C.DMG, SPD
For Clan Boss, Dungeons
by ayumilove
DEF%, HP%, C.RATE, C.DMG, SPD, ACC
DEF%, HP%, C.RATE, C.DMG, SPD, ACC
DEF%, HP%, C.RATE, C.DMG, SPD, ACC
DEF%, HP%, C.DMG, SPD, ACC
HP%, C.RATE, C.DMG, SPD, ACC
DEF%, HP%, C.RATE, C.DMG, ACC
DEF%, HP%, C.RATE, C.DMG, SPD, ACC
DEF%, HP%, C.RATE, SPD, ACC
DEF%, HP%, C.RATE, C.DMG, SPD
For Clan Boss, Dungeons
by ayumilove
accuracy, defense, defense
DEF%, HP%, C.RATE, C.DMG, SPD, ACC
DEF%, HP%, C.RATE, C.DMG, SPD, ACC
DEF%, HP%, C.RATE, C.DMG, SPD, ACC
DEF%, HP%, C.DMG, SPD, ACC
HP%, C.RATE, C.DMG, SPD, ACC
DEF%, HP%, C.RATE, C.DMG, ACC
DEF%, HP%, C.RATE, C.DMG, SPD, ACC
DEF%, HP%, C.RATE, SPD, ACC
DEF%, HP%, C.RATE, C.DMG, SPD
Masteries for Seneschal
For Arena, Campaign, Faction Wars
by ayumilove
For Clan Boss, Dungeons
by ayumilove
---
Updated on 2021-03-28