Sethallia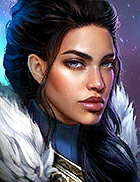 Put to Flame
Attacks 1 enemy. Has a 50% chance of placing a [HP Burn] debuff for 2 turns.
Damage based on: [ATK]
Level 2 Damage +5%
Level 3 Damage +5%
Level 4 Buff/Debuff Chance +10%

Lordly Embrace
Cooldown: 3 turns
Removes all debuffs from a target ally, then places a [Block Debuffs] buff for 2 turns and heals that ally by 75% of their MAX HP. Heals all other allies by 20% of their MAX HP and fills their Turn Meters by 15% if the target is fully healed by this Skill.
Level 2 Heal +5%
Level 3 Heal +5%
Level 4 Cooldown -1

Aggress
Cooldown: 4 turns
Has 75% chance of removing all buffs from all enemies, then decreases the Turn Meters of all enemies by 10% and fills the Turn Meters of all allies by 10%. Drecreases the Turn Meters of all enemies by 2°% and fills the Turn Meters of all allies by 20% if 5 or more buffs were removed
Level 2 Buff/Debuff Chance +5%
Level 3 Buff/Debuff Chance +10%
Level 4 Buff/Debuff Chance +15%
Level 5 Cooldown -1

Aura
Increases Magic Ally RES in all battles by 50
Lore
Lady Sethallia hails from the coast of the Land of Rebirth, South of the Castle of Kaerok itself. Her ancestral fief grants control of much of the province, making Sethallia a well-known face at court as well as one of King Tayba's important vassals. Fiery-tempered and charismatic, she has earned as many enemies among the King's bannermen as she did friends. Her brash nature is well known even among Sethallia's own people, although it seems her soldiers have grown to adore and respect it. A widely-quoted story tells of her bravery when a small force of Kaerok knights fell into an orc ambush. Seeing a hulking orс chief fell a dozen of her men in that battle, Sethallia cut her way through to the beast and mocked him brazenly. The orc, who is said to have dwarfed even the tallest of King Tayba's knights, abandoned the wounded soldiers in favour of trampling the foolish noble into the dirt. Yet for all his savagery he could not match Sethallia's skill. Finally provoked into making a mistake, the orc chief soon found his throat pierced by a spear, and his kin broke and fled the field upon witnessing their leader's defeat. Needless to say, Lady Sethallia's reputation as a warrior and her popularity in the King's army blossomed after that feat. For all her recklessness, Sethallia is a capable leader that can both guide her fury to set enemy ranks ablaze with magic or direct her allies to sap away their strength in a relentless assault. But where enemies face naught but fire and wrath, Sethallia's care has been known to miraculously heal even the most grievous of wounds.
Ratings of Sethallia
Location
Rating
Campaign
Arena
Offensive:
Defensive:
Clan boss
Without T6 mastery:
With T6 mastery:
Ice Golem's Peak
Dragon's Lair
Spider's Den
Fire Knight's Castle
Minotaur's Labyrinth
Force Keep
Magic Keep
Spirit Keep
Void Keep
Masteries advices
Advices regarding the mastery choice for Sethallia.
T6: Warmaster or Giant Slayer?
Clan Boss
We recommend using Warmaster, the skill Put to Flame hits 1 time, which will benefit more to Warmaster than Giant Slayer.
Arena
We recommend using Warmaster in the Arena, despite the number of hits any skill from Sethallia does.
Recommended builds for Sethallia
For Arena, Campaign, Faction Wars
by ayumilove
For Arena, Campaign, Faction Wars
by ayumilove
For Arena, Campaign, Faction Wars
by ayumilove
For Clan Boss, Dungeons
by ayumilove
For Clan Boss, Dungeons
by ayumilove
For Clan Boss, Dungeons
by ayumilove
Masteries for Sethallia
For Arena, Campaign, Clan Boss, Dungeons, Faction Wars
by ayumilove
Fusions
Sethallia is not part of any fusion
Great videos on Sethallia
---
Updated on 2021-03-28