Skink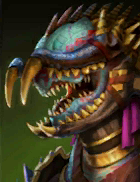 Slippery Strike
Attacks 1 enemy. Will ignore [Block Damage] and [Shield] buffs.
Damage based on: [ATK]
Level 2 Damage +5%
Level 3 Damage +5%
Level 4 Damage +5%
Level 5 Damage +10%

Withering Poison
Cooldown: 4 turns
Attacks 1 enemy. Has a 50% chance of placing a 30% [Decrease DEF] debuff for 2 turns. Places a 50% [Heal Reduction] debuff for 2 turns if the target has a [Decrease DEF] debuff.
Damage based on: [ATK]
Level 2 Damage +5%
Level 3 Damage +5%
Level 4 Buff/Debuff Chance +10%
Level 5 Buff/Debuff Chance +15%
Level 6 Cooldown -1

Catalyze
Cooldown: 4 turns
Attacks 1 enemy. The hit is critical if the target has a [Heal Reduction] debuff.
Damage based on: [ATK]
Level 2 Damage +5%
Level 3 Damage +10%
Level 4 Damage +10%
Level 5 Cooldown -1

Aura
Increases Magic Ally ATK in all battles by 30%
Lore
Skink was never particularly liked among his tribe, both due to his cunning nature and a knack for finding trouble. But he was still given an opportunity to serve in the vanguard of many raids – an honour given in the hopes that he would one day get himself killed. That, however, never happened, and Skink now commands the loyalty and respect of an ever-growing group of young warriors, much to the displeasure of his rivals. Skink believes that one day he shall overtake his detractors to become the greatest leader the Lizardmen tribes have ever known.
Ratings of Skink
Location
Rating
Campaign
Arena
Offensive:
Defensive:
Clan boss
Without T6 mastery:
With T6 mastery:
Ice Golem's Peak
Dragon's Lair
Spider's Den
Fire Knight's Castle
Minotaur's Labyrinth
Force Keep
Magic Keep
Spirit Keep
Void Keep
Masteries advices
Advices regarding the mastery choice for Skink.
T6: Warmaster or Giant Slayer?
Clan Boss
We recommend using Warmaster, the skill Slippery Strike hits 1 time, which will benefit more to Warmaster than Giant Slayer.
Arena
We recommend using Warmaster in the Arena, despite the number of hits any skill from Skink does.
Recommended builds for Skink
For Arena, Campaign, Faction Wars
by ayumilove
ATK%, C.RATE, C.DMG, SPD, ACC
ATK%, C.RATE, C.DMG, SPD, ACC
ATK%, C.RATE, C.DMG, SPD, ACC
ATK%, C.RATE, C.DMG, SPD, ACC
For Arena, Campaign, Faction Wars
by ayumilove
ATK%, C.RATE, C.DMG, SPD, ACC
ATK%, C.RATE, C.DMG, SPD, ACC
ATK%, C.RATE, C.DMG, SPD, ACC
ATK%, C.RATE, C.DMG, SPD, ACC
For Clan Boss, Dungeons
by ayumilove
ATK%, C.RATE, C.DMG, SPD, ACC
ATK%, C.RATE, C.DMG, SPD, ACC
ATK%, C.RATE, C.DMG, SPD, ACC
ATK%, C.RATE, C.DMG, SPD, ACC
For Clan Boss, Dungeons
by ayumilove
ATK%, C.RATE, C.DMG, SPD, ACC
ATK%, C.RATE, C.DMG, SPD, ACC
ATK%, C.RATE, C.DMG, SPD, ACC
ATK%, C.RATE, C.DMG, SPD, ACC
Masteries for Skink
For Arena, Campaign, Clan Boss, Dungeons, Faction Wars
by ayumilove
---
Updated on 2021-03-28