Slicer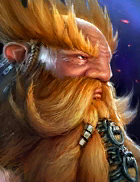 Finishing Blow
Attacks 1 enemy.
Drecreased the cooldown of the Cut Apart skill by 1 turn if this attack kills an enemy.
Damage based on: [ATK]

Cut Apart
Cooldown: 4 turns
Attacks 1 enemy.
Has a 30% chance of placing a 30% [Decrease DEF] debuff for 2 turns.
Damage based on: [ATK]
Lore
Slicers are outcasts, exiles and criminals alike that have for one reason or the other been forced outside the rigidly disciplined Dwarven society. Many of them were forced to survive in the caverns beyond the safe confines of their cities, or have gone to the surface to seek fortune as mercenaries and bandits. Now with the Dwarven Champions on the march, these pariahs are offered full pardon if they take up arms in the name of their kin and King. Many have taken the chance and flock the Lumaya's chosen, bearing their broadswords and little else. These warriors have little to lose and will often fight like madmen because of it.
Ratings of Slicer
Location
Rating
Campaign
Arena
Offensive:
Defensive:
Clan boss
Without T6 mastery:
With T6 mastery:
Ice Golem's Peak
Dragon's Lair
Spider's Den
Fire Knight's Castle
Minotaur's Labyrinth
Force Keep
Magic Keep
Spirit Keep
Void Keep
Masteries advices
Advices regarding the mastery choice for Slicer.
T6: Warmaster or Giant Slayer?
Clan Boss
We don't have enough information about Slicer to determine whether he should have Warmaster or Giant Slayer as T6 mastery.
Arena
We recommend using Warmaster in the Arena, despite the number of hits any skill from Slicer does.
Recommended builds for Slicer
For Arena, Campaign, Faction Wars
by ayumilove
ATK%, C.RATE, C.DMG, SPD, ACC
ATK%, C.RATE, C.DMG, SPD, ACC
ATK%, C.RATE, C.DMG, SPD, ACC
ATK%, C.RATE, C.DMG, SPD, ACC
ATK%, C.RATE, C.DMG, SPD, ACC
ATK%, C.RATE, C.DMG, SPD, ACC
For Clan Boss, Dungeons
by ayumilove
ATK%, C.RATE, C.DMG, SPD, ACC
ATK%, C.RATE, C.DMG, SPD, ACC
ATK%, C.RATE, C.DMG, SPD, ACC
ATK%, C.RATE, C.DMG, SPD, ACC
ATK%, C.RATE, C.DMG, SPD, ACC
ATK%, C.RATE, C.DMG, SPD, ACC
For Clan Boss, Dungeons
by ayumilove
ATK%, C.RATE, C.DMG, SPD, ACC
ATK%, C.RATE, C.DMG, SPD, ACC
ATK%, C.RATE, C.DMG, SPD, ACC
ATK%, C.RATE, C.DMG, SPD, ACC
ATK%, C.RATE, C.DMG, SPD, ACC
ATK%, C.RATE, C.DMG, SPD, ACC
Masteries for Slicer
For Arena, Campaign, Clan Boss, Dungeons, Faction Wars
by ayumilove
Fusions
Slicer is not part of any fusion
---
Updated on 2021-03-28