Suwai Firstborn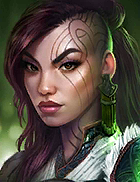 Skills of Suwai Firstborn

Render Helpless
Attacks 1 enemy. Has a 50% chance of placing a 60% [Decrease DEF] debuff for 2 turns. Places a 50% [Increase ATK] buff and a 30% [Increase C.DMG] buff on this Champion for 2 turns if this attack kills an enemy.
Damage based on: [ATK]
Level 2: Damage +5%
Level 3: Damage +5%
Level 4: Damage +5%
Level 5: Damage +5%

Utter Rampage
Cooldown: 4 turns
Attacks 1 enemy. Attacks all enemies with a second hit if this attack is critical. This hit deals 80% of the damage inflicted from the first hit. This attack will always be a normal hit.
Damage based on: [ATK]
Level 2: Damage +5%
Level 3: Damage +5%
Level 4: Damage +5%
Level 5: Damage +5%
Level 6: Cooldown -1

Deaden Reactions
Cooldown: 5 turns
Attacks 1 enemy. Before attacking, has a 75% chance of placing a 25% [Weaken] debuff for 2 turns.
Damage based on: [ATK]
Level 2: Damage +5%
Level 3: Damage +10%
Level 4: Buff/Debuff Chance +5%
Level 5: Buff/Debuff Chance +10%
Level 6: Buff/Debuff Chance +10%
Level 7: Cooldown -1
Lore
Not much is known about the spear-wielding warrior who calls herself Suwai Firstborn. She hails from the far reaches of the Deadlands, where the merciless desert gives way to the whispering plains of the Savannah and, further to the north, resilient forests and treacherous swamps. Though rich in game and even offering swathes of arable lands, this area is dangerous to settle. Savage Lizardmen packs often roam the plains – and especially lands near their sacred swamps and lakes – killing outsiders at will. Suwai sometimes speaks of growing up in constant hardship, of picking up the spear as soon as she was strong enough to train with one, and of the hated beasts that claimed the lives of many kindred. Most of all, she speaks of vengeance and debts paid in blood. Indeed, Suwai Firstborn is a vicious warrior whose ire is dark and easy to raise. When she fights, she gives it her all, striking at her foes with ruthless grace and sending fountains of blood with ever swing or thrust of her spear. The death around her only seems to drive Suwai to greater feats of martial excellence, her attacks growing stronger and more precise as hapless foes tumble and fall to the ground. She retains much of that demeanour even in the service of the Arbiter, though through the shrewd manipulation of Lumaya's herald, Suwai's focus had been shifted to matters of warrior's honour in place of simple bloodshed and blind need for revenge.
Ratings of Suwai Firstborn
Location
Rating
Campaign
Arena
Offensive:
Defensive:
Clan boss
Without T6 mastery:
With T6 mastery:
Ice Golem's Peak
Dragon's Lair
Spider's Den
Fire Knight's Castle
Minotaur's Labyrinth
Force Keep
Magic Keep
Spirit Keep
Void Keep
Masteries advices
Advices regarding the mastery choice for Suwai Firstborn.
T6: Warmaster or Giant Slayer?
Clan Boss
We don't have enough information about Suwai Firstborn to determine whether he should have Warmaster or Giant Slayer as T6 mastery.
Arena
We recommend using Warmaster in the Arena, despite the number of hits any skill from Suwai Firstborn does.
Recommended builds for Suwai Firstborn
For Arena, Campaign, Faction Wars
by ayumilove
ATK%, C.RATE, C.DMG, SPD, ACC
ATK%, C.RATE, C.DMG, SPD, ACC
ATK%, C.RATE, C.DMG, SPD, ACC
ATK%, C.RATE, C.DMG, SPD, ACC
For Clan Boss, Dungeons
by ayumilove
ATK%, C.RATE, C.DMG, SPD, ACC
ATK%, C.RATE, C.DMG, SPD, ACC
ATK%, C.RATE, C.DMG, SPD, ACC
ATK%, C.RATE, C.DMG, SPD, ACC
Masteries for Suwai Firstborn
For Arena, Campaign, Clan Boss, Dungeons, Faction Wars
by ayumilove
Great videos on Suwai Firstborn
---
Updated on 2021-03-28