Taurus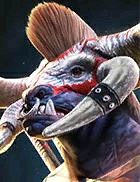 Metabolize
Attacks 1 enemy. Heals by 20% of the damage inflicted if the target has a [Poison] debuff.
Damage based on: [ATK]
Level 2: Damage +5%
Level 3: Damage +5%
Level 4: Damage +5%
Level 5: Damage +10%

Tendon Slash
Cooldown: 4 turns
Attacks 1 enemy. Has a 75% chance of placing a 25% [Weaken] debuff for 2 turns.
Damage based on: [ATK]
Level 2: Damage +5%
Level 3: Buff/Debuff Chance +10%
Level 4: Damage +10%
Level 5: Buff/Debuff Chance +15%
Level 6: Cooldown -1

Toxic Nova
Cooldown: 5 turns
This Champion receives damage equal to 99% of their current HP. Places an [Unkillable] buff on this Champion for 2 turns. Has an 80% chance of placing four 5% [Poison] debuffs on all enemies for 2 turns.
Level 2: Buff/Debuff Chance +10%
Level 3: Buff/Debuff Chance +10%
Level 4: Cooldown -1

Aura
Increases Ally ACC in Faction Crypts by 40.
Lore
Though Skinwalkers at large lack the secrets of steel or alchemy to truly challenge the powerful nations of Teleria, ancient tribal lore and knowledge of the land allow them to improvise. Thus the Taurus, in addition to his brute strength, has access to potent poisons crafted by the tribe's shamans any venomous component they can find – be it a corrupted plant or a giant spider's powdered mandibles. Such concoctions can be extremely virulent, if volatile and prone to poisoning the warrior using them as well as the intended targets. Though sheer animalistic toughness allows the Taurus to withstand the worst of the effects, having means of healing on hand is never a bad idea for any Warrior wishing to employ such tactics.
Ratings of Taurus
Location
Rating
Campaign
Arena
Offensive:
Defensive:
Clan boss
Without T6 mastery:
With T6 mastery:
Ice Golem's Peak
Dragon's Lair
Spider's Den
Fire Knight's Castle
Minotaur's Labyrinth
Force Keep
Magic Keep
Spirit Keep
Void Keep
Synergy
Taurus's abilities can be paired with the following champions for better results.
Poison and Counterattack
Mixing a champion having A1 applying a Poison debuff, and a champion able to place a counterattack buff on him, is a very good situational synergy that can be impressive during Clan Boss battles.
Masteries advices
Advices regarding the mastery choice for Taurus.
T6: Warmaster or Giant Slayer?
Clan Boss
We recommend using Warmaster, the skill Metabolize hits 1 time, which will benefit more to Warmaster than Giant Slayer.
Arena
We recommend using Warmaster in the Arena, despite the number of hits any skill from Taurus does.
Recommended builds for Taurus
For Arena, Campaign
by ayumilove
accuracy, accuracy, speed
ATK%, C.RATE, C.DMG, SPD, ACC
ATK%, C.RATE, C.DMG, SPD, ACC
ATK%, C.RATE, C.DMG, SPD, ACC
Gauntlets
(
C.RATE / C.DMG
)
ATK%, C.RATE, C.DMG, SPD, ACC
For Arena, Campaign
by ayumilove
ATK%, C.RATE, C.DMG, SPD, ACC
ATK%, C.RATE, C.DMG, SPD, ACC
ATK%, C.RATE, C.DMG, SPD, ACC
Gauntlets
(
C.RATE / C.DMG
)
ATK%, C.RATE, C.DMG, SPD, ACC
For Arena, Campaign
by ayumilove
ATK%, C.RATE, C.DMG, SPD, ACC
ATK%, C.RATE, C.DMG, SPD, ACC
ATK%, C.RATE, C.DMG, SPD, ACC
Gauntlets
(
C.RATE / C.DMG
)
ATK%, C.RATE, C.DMG, SPD, ACC
For Clan Boss, Dungeons, Faction Wars
by ayumilove
accuracy, accuracy, speed
For Clan Boss, Dungeons, Faction Wars
by ayumilove
For Clan Boss, Dungeons, Faction Wars
by ayumilove
For Clan Boss, Dungeons, Faction Wars
by ayumilove
Masteries for Taurus
For Arena, Campaign, Clan Boss, Dungeons, Faction Wars
by ayumilove
For Clan Boss, Dungeons, Faction Wars
by ayumilove
Fusions
Taurus is not part of any fusion
---
Updated on 2021-03-28