Thrasher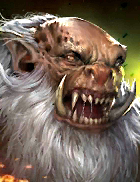 Gorey Fists
Attacks 1 enemy.
Damage based on: [ATK]

Thrash
Cooldown: 3 turns
Attacks 1 enemy. Has a 15% chance of placing a [Block Buffs] debuff for 2 turns.
Damage based on: [ATK]
Lore
Thrashers are relatively primitive creatures. Specifically, they are an offshoot of the Ogryn race that never had an opportunity to progress to the point of some of their kin. As such, their society is functionally non-existent. Thrashers live in the cold caves of the Mountains of Despair, either alone or in small family groups and will ruthlessly attack anything and anyone they come across. Though possessing primitive sentience, few are intelligent enough to truly comprehend the world beyond their hunting grounds. Fewer still will be able to communicate with other beings and not try to smash them with the nearest rock.
Ratings of Thrasher
Location
Rating
Campaign
Arena
Offensive:
Defensive:
Clan boss
Without T6 mastery:
With T6 mastery:
Ice Golem's Peak
Dragon's Lair
Spider's Den
Fire Knight's Castle
Minotaur's Labyrinth
Force Keep
Magic Keep
Spirit Keep
Void Keep
Masteries advices
Advices regarding the mastery choice for Thrasher.
T6: Warmaster or Giant Slayer?
Clan Boss
We don't have enough information about Thrasher to determine whether he should have Warmaster or Giant Slayer as T6 mastery.
Arena
We recommend using Warmaster in the Arena, despite the number of hits any skill from Thrasher does.
Recommended builds for Thrasher
For Arena, Campaign, Faction Wars
by ayumilove
ATK%, C.RATE, C.DMG, SPD, ACC
ATK%, C.RATE, C.DMG, SPD, ACC
ATK%, C.RATE, C.DMG, SPD, ACC
ATK%, C.RATE, C.DMG, SPD, ACC
For Clan Boss, Dungeons
by ayumilove
ATK%, C.RATE, C.DMG, SPD, ACC
ATK%, C.RATE, C.DMG, SPD, ACC
ATK%, C.RATE, C.DMG, SPD, ACC
ATK%, C.RATE, C.DMG, SPD, ACC
Fusions
Thrasher is not part of any fusion
---
Updated on 2021-03-28