Turvold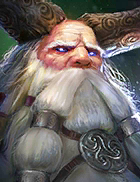 Crackling Blade
Attacks 1 enemy 2 times. Has a 30% chance of placing a 25% [Weaken] debuff for 2 turns.
Damage based on: [ATK]
Level 2 Damage +5%
Level 3 Damage +5%
Level 4 Buff/Debuff Chance +109
Level 5 Damage +10%
Level 6 Buff/Debuff Chance +10°


Juggernaut
Cooldown: 5 turns
Attacks 1 enemy 2 times. Damage increases according to the number of buffs on this Champion. If the target is killed, resets the cooldown of this skill.
Damage based on: [ATK]
Level 2 Damage +10%
Level 3 Damage +10%
Level 4 Cooldown -1
Level 5 Damage +10%
Level 6 Cooldown -1

Aura
Increases Ally ATK in Faction Crypts by 42%
Lore
Turvold's birth is shrouded in mystery. Some suspect he was born of a union between a hermit witch and a giant, a rumour that gave him the rather appropriate nickname "Giantson". The rest of his youth is mired in tall tales, most spun by Turvold himself. He is said to have been discovered by a Norr hunting party in the forest depths as a child and adopted by one of them. His unnatural strength and resilience ensured that in due time he became the tribe's most respected warrior. He is said to have single-handedly slain a terrible Wyrm that terrorized the area for over a hundred years. It is in the Wyrm's hoard that he found a mighty greatsword, infused with the chill of Winter by the great smiths of old. Taken by the desire to prove himself further, Turvold traveled the land as a mercenary for many decades and made a name for himself serving nobles of both Kaerok and Aravia. Though over a century old now, the blood of giants that runs through his veins keeps Turvold as mighty as he was in his youth. Wisened by his age, he has become as cunning in battle as he is strong, now capable of exploiting the weaknesses of his enemies and delivering terrifying blows that make the ground itself quake in awe.
Ratings of Turvold
Location
Rating
Campaign
Arena
Offensive:
Defensive:
Clan boss
Without T6 mastery:
With T6 mastery:
Ice Golem's Peak
Dragon's Lair
Spider's Den
Fire Knight's Castle
Minotaur's Labyrinth
Force Keep
Magic Keep
Spirit Keep
Void Keep
Masteries advices
Advices regarding the mastery choice for Turvold.
T6: Warmaster or Giant Slayer?
Clan Boss
We recommend using Warmaster, the skill Crackling Blade hits 2 time, which will benefit more to Warmaster than Giant Slayer.
Arena
We recommend using Warmaster in the Arena, despite the number of hits any skill from Turvold does.
Recommended builds for Turvold
For Arena, Campaign, Faction Wars
by ayumilove
ATK%, C.RATE, C.DMG, ACC, SPD
ATK%, C.RATE, C.DMG, ACC, SPD
ATK%, C.RATE, C.DMG, ACC, SPD
Gauntlets
(
C.RATE / C.DMG
)
ATK%, C.RATE, C.DMG, ACC, SPD
For Arena, Campaign, Faction Wars
by ayumilove
ATK%, C.RATE, C.DMG, ACC, SPD
ATK%, C.RATE, C.DMG, ACC, SPD
ATK%, C.RATE, C.DMG, ACC, SPD
Gauntlets
(
C.RATE / C.DMG
)
ATK%, C.RATE, C.DMG, ACC, SPD
For Clan Boss, Dungeons
by ayumilove
ATK%, C.RATE, C.DMG, ACC, SPD
ATK%, C.RATE, C.DMG, ACC, SPD
ATK%, C.RATE, C.DMG, ACC, SPD
Gauntlets
(
C.RATE / C.DMG
)
ATK%, C.RATE, C.DMG, ACC, SPD
For Clan Boss, Dungeons
by ayumilove
ATK%, C.RATE, C.DMG, ACC, SPD
ATK%, C.RATE, C.DMG, ACC, SPD
ATK%, C.RATE, C.DMG, ACC, SPD
Gauntlets
(
C.RATE / C.DMG
)
ATK%, C.RATE, C.DMG, ACC, SPD
Masteries for Turvold
For Arena, Campaign, Clan Boss, Dungeons, Faction Wars
by ayumilove
Fusions
Turvold is not part of any fusion
---
Updated on 2021-03-28