Twinclaw Disciple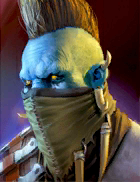 Skills of Twinclaw Disciple

Disfigure
Attacks 1 enemy. Has a 35% chance of placing a 100% [Heal Reduction] debuff for 2 turns.

Damage based on: [ATK]
Level 2 Damage +5%
Level 3 Damage +5%
Level 4 Damage +5%
Level 5 Damage +5%
Level 6 Buff/Debuff Chance +10%

Tendon Carve
Cooldown: 4 turns
Attacks 1 enemy. Has a 50% chance of placing a 15% [Weaken] debuff for 2 turns.
Damage based on: [ATK]
Level 2 Damage +5%
Level 3 Damage +5%
Level 4 Damage +10%
Level 5 Buff/Debuff Chance +10%
Level 6 Buff/Debuff Chance +15%
Level 7 Cooldown -1

Tear to Shreds
Cooldown: 4 turns
Attacks 1 enemy. Has a 50% chance of placing a [Block Cooldown Skills] debuff for 2 turns. The chance increases to 100% if the target is under a [Heal Reduction] debuff.

Damage based on: [ATK]
Level 2 Damage +5%
Level 3 Damage +5%
Level 4 Cooldown -1
Lore
Twinclaw Cult is a dangerous, extremely violent twist on ancient Orcish beliefs. It glorifies personal strength and savagery in combat, urging its followers to abandon reason and moderation in favour of battle frenzy. The disciples of the cult are often armed with wicked metal claws, sharpened and fashioned to be held in the wielder's hands. It is not an elegant weapon, but it does suit the cult's philosophy perfectly. Armed thus, the Orcs of the Twinclaw fight like beasts possessed, hacking and slashing at anything that has the misfortune of being in their way. The wounds they leave are incredibly messy and difficult to heal, and with claws like that, they can deliver debilitating strikes to the foe with surprising efficiency.
Ratings of Twinclaw Disciple
Location
Rating
Campaign
Arena
Offensive:
Defensive:
Clan boss
Without T6 mastery:
With T6 mastery:
Ice Golem's Peak
Dragon's Lair
Spider's Den
Fire Knight's Castle
Minotaur's Labyrinth
Force Keep
Magic Keep
Spirit Keep
Void Keep
Masteries advices
Advices regarding the mastery choice for Twinclaw Disciple.
T6: Warmaster or Giant Slayer?
Clan Boss
We don't have enough information about Twinclaw Disciple to determine whether he should have Warmaster or Giant Slayer as T6 mastery.
Arena
We recommend using Warmaster in the Arena, despite the number of hits any skill from Twinclaw Disciple does.
---
Updated on 2021-03-28