Tyrant Ixlimor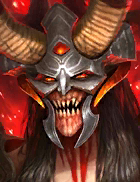 Feast of Flame
Attacks 1 enemy. Heals this Champion by 25% of the damage inflicted. Heals this Champion by 50% of the damage inflicted instead if the target is under a [HP Burn] debuff.
Damage based on: [DEF]
Level 2: Damage +5%
Level 3: Damage +5%
Level 4: Damage +10%

Hellfire Torrent
Cooldown: 4 turns
Attacks all enemies. Has a 75% chance of placing a [HP Burn] debuff on all enemies for 3 turns.
Damage based on: [DEF]
Level 2: Damage +5%
Level 3: Damage +10%
Level 4: Buff/Debuff Chance +10%
Level 5: Buff/Debuff Chance +15%
Level 6: Cooldown -1

Infernal Minions
Cooldown: 4 turns
Places a 50% [Ally Protection] buff on all allies except this Champion for 2 turns. Places a 60% [Increase DEF] buff on all allies for 2 turns.
Level 2: Cooldown -1

Aura
Increases Ally HP in all Battles by 25 %.
Lore
Ixlimor is an ancient demon of considerable power, reigning as the self-proclaimed Tyrant of the Hellfire Wastes that lie in the heart of Siroth's infernal domain. As the name suggests, it is a region steeped in ethereal flames that scorch and burn every creature that has the audacity to dwell there. No mortal can enter and survive, that is beyond question. Even demons themselves often find the conditions intolerable, their immortal flesh blackening and turning to blister-covered ruin when exposed to the flames… Though perhaps that is why Ixlimor has chosen the Wastes as his domain. A warrior at heart, he enjoys challenging his rivals to bitter wars for power and influence. His impenetrable fortress serves the Tyrant well and, thus far at least, no foe managed to inflict a grievous enough defeat that he could not recover from. Even when beaten, Ixlimor can retreat to his stronghold and plot revenge that will be exacted upon the offenders in due time. But such rivalry and powerplays are forgotten – temporarily – when the Dark Lord himself calls upon his minions to go forth and bring war and destructions to the pathetic mortals of Teleria. Ixlimor follows just as others of his kind do. And though far from his burning domain, the Tyrant still brings a portion of those flames with him, gleefully unleashing the soul-scorching hellfire upon all those foolish enough to stand against Siroth and his chosen servants.
Ratings of Tyrant Ixlimor
Location
Rating
Campaign
Arena
Offensive:
Defensive:
Clan boss
Without T6 mastery:
With T6 mastery:
Ice Golem's Peak
Dragon's Lair
Spider's Den
Fire Knight's Castle
Minotaur's Labyrinth
Force Keep
Magic Keep
Spirit Keep
Void Keep
Masteries advices
Advices regarding the mastery choice for Tyrant Ixlimor.
T6: Warmaster or Giant Slayer?
Clan Boss
We don't have enough information about Tyrant Ixlimor to determine whether he should have Warmaster or Giant Slayer as T6 mastery.
Arena
We recommend using Warmaster in the Arena, despite the number of hits any skill from Tyrant Ixlimor does.
Recommended builds for Tyrant Ixlimor
For Arena, Campaign, Faction Wars
by ayumilove
For Clan Boss, Dungeons
by ayumilove
For Clan Boss, Dungeons
by ayumilove
Masteries for Tyrant Ixlimor
For Arena, Campaign, Faction Wars
by ayumilove
For Clan Boss, Dungeons
by ayumilove
Fusions
Tyrant Ixlimor is not part of any fusion
Great videos on Tyrant Ixlimor
---
Updated on 2021-03-28