Umbral Enchantress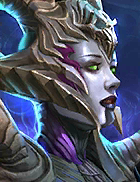 Skills of Umbral Enchantress

Essence Scepter
Attacks 1 enemy. Damage is proportional to this Champion's current HP.

Damage based on: [DEF]
Level 2 Damage +5%
Level 3 Damage +5%
Level 4 Damage +5%
Level 5 Damage +5%

Immolate
Cooldown: 3 turns
Attacks all enemies. Has an 80% chance of placing a [Block Buffs] debuff for 3 turns.
Damage based on: [DEF]
Level 2 Damage +5%
Level 3 Damage +5%
Level 4 Damage +10%
Level 5 Buff/Debuff Chance +10%
Level 6 Buff/Debuff Chance +10%

Undying Evil
Cooldown: 5 turns
Attacks all enemies. Has an 80% chance of placing a [Provoke] debuff for 2 turns. Places an [Unkillable] buff on this Champion for 2 turns. Places a [Block Cooldown Skills] debuff on this Champion for 5 turns. The [Block Cooldown Skills] debuff cannot be resisted or blocked and cannot be removed.
Damage based on: [DEF]

Level 2 Damage +10%
Level 3 Damage +10%
Level 4 Buff/Debuff Chance +10%
Level 5 Buff/Debuff Chance +10%
Lore
A creature of eerie beauty and inexhaustible malice, the Umbral Enchantress is a cunning foe to face. She is a Countess of Siroth's legions and has a well over a hundred lesser demons at her beck and call, but she does not often hide behind the backs of her minions either. Those bold enough to face the Enchantress find themselves under her vile spell, unable to receive the boons and blessings their artifacts or allies might provide. Their wits fail them as well, clouded by the Enchantress' guile. It is said that the Umbral Enchantress had a mighty rival among her dark kin, a Baron who believed himself unmatched as a warrior and craved to advance through the demonic hierarchy. His mistake was believing the Enchantress weak and unworthy of her position. When tempers boiled and challenges turned to open battle, that arrogant champion found himself powerless and enthralled, consumed by his rage and hacking away at the Enchantress without finesse or strategy. She had slain the Baron easily and fashioned his skull into a decoration for her shield, there to remind everyone of the folly of challenging her.
Ratings of Umbral Enchantress
Location
Rating
Campaign
Arena
Offensive:
Defensive:
Clan boss
Without T6 mastery:
With T6 mastery:
Ice Golem's Peak
Dragon's Lair
Spider's Den
Fire Knight's Castle
Minotaur's Labyrinth
Force Keep
Magic Keep
Spirit Keep
Void Keep
Masteries advices
Advices regarding the mastery choice for Umbral Enchantress.
T6: Warmaster or Giant Slayer?
Clan Boss
We don't have enough information about Umbral Enchantress to determine whether he should have Warmaster or Giant Slayer as T6 mastery.
Arena
We recommend using Warmaster in the Arena, despite the number of hits any skill from Umbral Enchantress does.
Recommended builds for Umbral Enchantress
For Arena, Campaign, Faction Wars
by ayumilove
DEF%, C.RATE, C.DMG, SPD, ACC
DEF%, C.RATE, C.DMG, SPD, ACC
DEF%, C.RATE, C.DMG, SPD, ACC
DEF%, C.RATE, C.DMG, SPD, ACC
For Arena, Campaign, Faction Wars
by ayumilove
accuracy, accuracy, speed
DEF%, C.RATE, C.DMG, SPD, ACC
DEF%, C.RATE, C.DMG, SPD, ACC
DEF%, C.RATE, C.DMG, SPD, ACC
DEF%, C.RATE, C.DMG, SPD, ACC
For Arena, Campaign, Faction Wars
by ayumilove
DEF%, C.RATE, C.DMG, SPD, ACC
DEF%, C.RATE, C.DMG, SPD, ACC
DEF%, C.RATE, C.DMG, SPD, ACC
DEF%, C.RATE, C.DMG, SPD, ACC
For Arena, Campaign, Faction Wars
by ayumilove
DEF%, C.RATE, C.DMG, SPD, ACC
DEF%, C.RATE, C.DMG, SPD, ACC
DEF%, C.RATE, C.DMG, SPD, ACC
DEF%, C.RATE, C.DMG, SPD, ACC
For Clan Boss, Dungeons
by ayumilove
DEF%, C.RATE, C.DMG, SPD, ACC
DEF%, C.RATE, C.DMG, SPD, ACC
DEF%, C.RATE, C.DMG, SPD, ACC
DEF%, C.RATE, C.DMG, SPD, ACC
For Clan Boss, Dungeons
by ayumilove
accuracy, accuracy, speed
DEF%, C.RATE, C.DMG, SPD, ACC
DEF%, C.RATE, C.DMG, SPD, ACC
DEF%, C.RATE, C.DMG, SPD, ACC
DEF%, C.RATE, C.DMG, SPD, ACC
For Clan Boss, Dungeons
by ayumilove
DEF%, C.RATE, C.DMG, SPD, ACC
DEF%, C.RATE, C.DMG, SPD, ACC
DEF%, C.RATE, C.DMG, SPD, ACC
DEF%, C.RATE, C.DMG, SPD, ACC
For Clan Boss, Dungeons
by ayumilove
DEF%, C.RATE, C.DMG, SPD, ACC
DEF%, C.RATE, C.DMG, SPD, ACC
DEF%, C.RATE, C.DMG, SPD, ACC
DEF%, C.RATE, C.DMG, SPD, ACC
Masteries for Umbral Enchantress
For Arena, Campaign, Faction Wars
by ayumilove
For Arena, Campaign, Faction Wars
by ayumilove
For Clan Boss, Dungeons
by ayumilove
Great videos on Umbral Enchantress
---
Updated on 2021-03-28