Valkyrie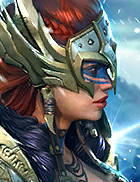 Denigration
Attacks 1 enemy 2 times. Decreases Turn Meter by 10% on each hit if the target has any buffs.
Damage based on: [ATK] [DEF]
Level 2 Damage +5%
Level 3 Damage +5%
Level 4 Damage +5%
Level 5 Damage +5%
Level 6 Damage +5%

Stand Firm
Cooldown: 4 turns
Attacks all enemies. Places a [Shield] buff on all allies for 3 turns and a [Counterattack] buff on all allies for 2 turns. The value of [Shield] and the damage inflicted are proportional to this Champion's DEF.
Damage based on: [DEF]
Level 2 Damage +5%
Level 3 Shield +10%
Level 4 Damage +5%
Level 5 Shield +10%
Level 6 Damage +10%
Level 7 Cooldown -1

Jealousy
This Champion's Turn Meter will be increased by 10% each time an enemy Champion places a buff. Enemy Champions will have their Turn Meters decreased by 10% for each buff they receive.

Aura
Increases Ally DEF in Faction Crypts by 33%
Lore
Unbeknownst to her, there were higher powers observing the war that gripped the Deadlands. Soon after the victory feasts were over and the honoured dead burned on the pyres, Valkyrie had a vision – a woman who called herself the Arbiter approached her. Though her motives in the recent battle were far from selfless, the Arbiter still recognized Valkyrie's skills and offered her life eternal in exchange for her service to Lumaya. Although Valkyrie was not quick to trust this stranger, a show of the Arbiter's power was enough to let her understand the gravity of the situation – and the fact she was not being given a choice, not truly. But with the promise of glory and immortality, as well as worthy foes to fight, Valkyrie was finally convinced and consigned her soul to the Shard extended to her by the Arbiter. Thus her service as Teleria's Champion began.
Ratings of Valkyrie
Location
Rating
Campaign
Arena
Offensive:
Defensive:
Clan boss
Without T6 mastery:
With T6 mastery:
Ice Golem's Peak
Dragon's Lair
Spider's Den
Fire Knight's Castle
Minotaur's Labyrinth
Force Keep
Magic Keep
Spirit Keep
Void Keep
Synergy
Valkyrie's abilities can be paired with the following champions for better results.
Poison and Counterattack
Mixing a champion having A1 applying a Poison debuff, and a champion able to place a counterattack buff on him, is a very good situational synergy that can be impressive during Clan Boss battles.
Masteries advices
Advices regarding the mastery choice for Valkyrie.
T6: Warmaster or Giant Slayer?
Clan Boss
We recommend using Warmaster, the skill Denigration hits 2 time, which will benefit more to Warmaster than Giant Slayer.
Arena
We recommend using Warmaster in the Arena, despite the number of hits any skill from Valkyrie does.
Recommended builds for Valkyrie
For Arena, Campaign, Faction Wars
by ayumilove
DEF%, HP%, C.RATE, C.DMG, SPD
DEF%, HP%, C.RATE, C.DMG, SPD
DEF%, HP%, C.RATE, C.DMG, SPD
Gauntlets
(
C.RATE / DEF% / HP%
)
DEF%, HP%, C.RATE, C.DMG, SPD
Amulet
(
C.DMG / DEF / HP
)
DEF%, HP%, C.RATE, C.DMG, SPD
For Clan Boss, Dungeons
by ayumilove
DEF%, HP%, C.RATE, C.DMG, SPD
DEF%, HP%, C.RATE, C.DMG, SPD
DEF%, HP%, C.RATE, C.DMG, SPD
Gauntlets
(
C.RATE / DEF% / HP%
)
DEF%, HP%, C.RATE, C.DMG, SPD
Amulet
(
C.DMG / DEF / HP
)
DEF%, HP%, C.RATE, C.DMG, SPD
Masteries for Valkyrie
For Arena, Campaign, Faction Wars
by ayumilove
For Clan Boss, Dungeons
by ayumilove
Fusions
Valkyrie is not part of any fusion
---
Updated on 2021-03-28