Vanguard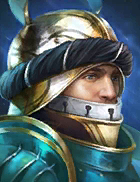 Gathering Momentum
Attacks 1 enemy. Places a 30% [Decrease DEF] debuff for 1 turn if the target's DEF is lower than this Champion's.
Damage based on: [ATK]

Inescapable Wrath
Cooldown: 4 turns
Attacks 1 enemy. Places a [Provoke] debuff for 1 turn if the target is under a [Decrease DEF] debuff.
Damage based on: [ATK]

Dismay the Foe
Decreases the duration of all buffs on the attacker when hit

Aura
Increases Ally RES in all battles by 30
Lore
When the armies of Kaerok march to war, it falls up to every individual Lord or Lady to form their forces as they see fit. It is, however, both customary and logical to form the vanguard with a body of experienced and hardened warriors. To serve there is an honour many men-at-arms aspire to. To serve their suzerain in such a manner is both a privilege and a sure way to gaining a greater portion of loot once the battle is done. Their equipment and armour is always of quality make, allowing the warriors to withstand difficult battles. And their training ensures they are capable of trying the enemy down, keeping his attention focused on them, and allowing the rest of their allies to strike with impunity.
Ratings of Vanguard
Location
Rating
Campaign
Arena
Offensive:
Defensive:
Clan boss
Without T6 mastery:
With T6 mastery:
Ice Golem's Peak
Dragon's Lair
Spider's Den
Fire Knight's Castle
Minotaur's Labyrinth
Force Keep
Magic Keep
Spirit Keep
Void Keep
Masteries advices
Advices regarding the mastery choice for Vanguard.
T6: Warmaster or Giant Slayer?
Clan Boss
We don't have enough information about Vanguard to determine whether he should have Warmaster or Giant Slayer as T6 mastery.
Arena
We recommend using Warmaster in the Arena, despite the number of hits any skill from Vanguard does.
Recommended builds for Vanguard
For Arena, Campaign, Faction Wars
by ayumilove
DEF%, C.RATE, C.DMG, SPD, ACC
DEF%, C.RATE, C.DMG, SPD, ACC
DEF%, C.RATE, C.DMG, SPD, ACC
DEF%, C.RATE, C.DMG, SPD, ACC
For Clan Boss, Dungeons
by ayumilove
DEF%, C.RATE, C.DMG, SPD, ACC
DEF%, C.RATE, C.DMG, SPD, ACC
DEF%, C.RATE, C.DMG, SPD, ACC
DEF%, C.RATE, C.DMG, SPD, ACC
For Clan Boss, Dungeons
by ayumilove
DEF%, C.RATE, C.DMG, SPD, ACC
DEF%, C.RATE, C.DMG, SPD, ACC
DEF%, C.RATE, C.DMG, SPD, ACC
DEF%, C.RATE, C.DMG, SPD, ACC
Masteries for Vanguard
For Arena, Campaign, Clan Boss, Dungeons, Faction Wars
by ayumilove
---
Updated on 2021-03-28