Wretch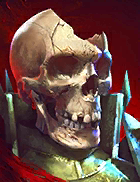 Crypt Touch
Attacks 1 enemy 2 times. Has a 20% chance of placing a 50% [Heal Reduction] debuff for 2 turns.
Damage based on: [ATK]
Level 2 Damage +5%
Level 3 Damage +5%
Level 4 Buff/Debuff Chance +5%
Level 5 Buff/Debuff Chance +5%

Lifeleech
Cooldown: 4 turns
Attacks 1 enemy. Heals this Champion by 15% of damage inflicted.
Damage based on: [ATK]
Level 2 Damage +5%
Level 3 Damage +5%
Level 4 Damage +10%
Level 5 Cooldown -1

Gravefire
Cooldown: 4 turns
Attacks 1 enemy. Places a [HP Burn] debuff for 2 turns.
Damage based on: [ATK]
Level 2 Damage +5%
Level 3 Damage +10%
Level 4 Damage +10%
Level 5 Cooldown -1

Aura
Increases Force Ally ATK in all battles by 30%
Lore
It is common practice for necromancers to raid old crypts, tombs, and sites of bloody battles in search of new minions to bind to their will. Most end up as shambling skeletons barely able to swing a sword. Sometimes, however, a capable warrior is raised in undeath. Though their soul is long gone, the body may yet hold vestiges of their waning might. Such creatures can look deceptively fragile, but underestimating them can be a deadly mistake. Either by the will of the necromancer that awakened them, or by their own natural affinity, these undead can manifest eerie magical abilities. This particular champion, though his origins are unknown, has been able to summon mystical fire upon his master's foes, sap away their lifeforce, and inflict wounds that defy the skills of experienced healers. But all is not lost, for such a powerful creature has to be bound to his Shard. And if one were to take possession of it, the skeletal Wretch can yet be turned against the dark powers that interrupted his eternal sleep.
Ratings of Wretch
Location
Rating
Campaign
Arena
Offensive:
Defensive:
Clan boss
Without T6 mastery:
With T6 mastery:
Ice Golem's Peak
Dragon's Lair
Spider's Den
Fire Knight's Castle
Minotaur's Labyrinth
Force Keep
Magic Keep
Spirit Keep
Void Keep
Masteries advices
Advices regarding the mastery choice for Wretch.
T6: Warmaster or Giant Slayer?
Clan Boss
We recommend using Warmaster, the skill Crypt Touch hits 2 time, which will benefit more to Warmaster than Giant Slayer.
Arena
We recommend using Warmaster in the Arena, despite the number of hits any skill from Wretch does.
Recommended builds for Wretch
For Arena, Campaign, Faction Wars
by ayumilove
ATK%, C.RATE, C.DMG, SPD, ACC
ATK%, C.RATE, C.DMG, SPD, ACC
ATK%, C.RATE, C.DMG, SPD, ACC
ATK%, C.RATE, C.DMG, SPD, ACC
For Clan Boss, Dungeons
by ayumilove
ATK%, C.RATE, C.DMG, SPD, ACC
ATK%, C.RATE, C.DMG, SPD, ACC
ATK%, C.RATE, C.DMG, SPD, ACC
ATK%, C.RATE, C.DMG, SPD, ACC
Masteries for Wretch
For everywhere
by ayumilove
Fusions
Wretch is not part of any fusion
---
Updated on 2021-03-28