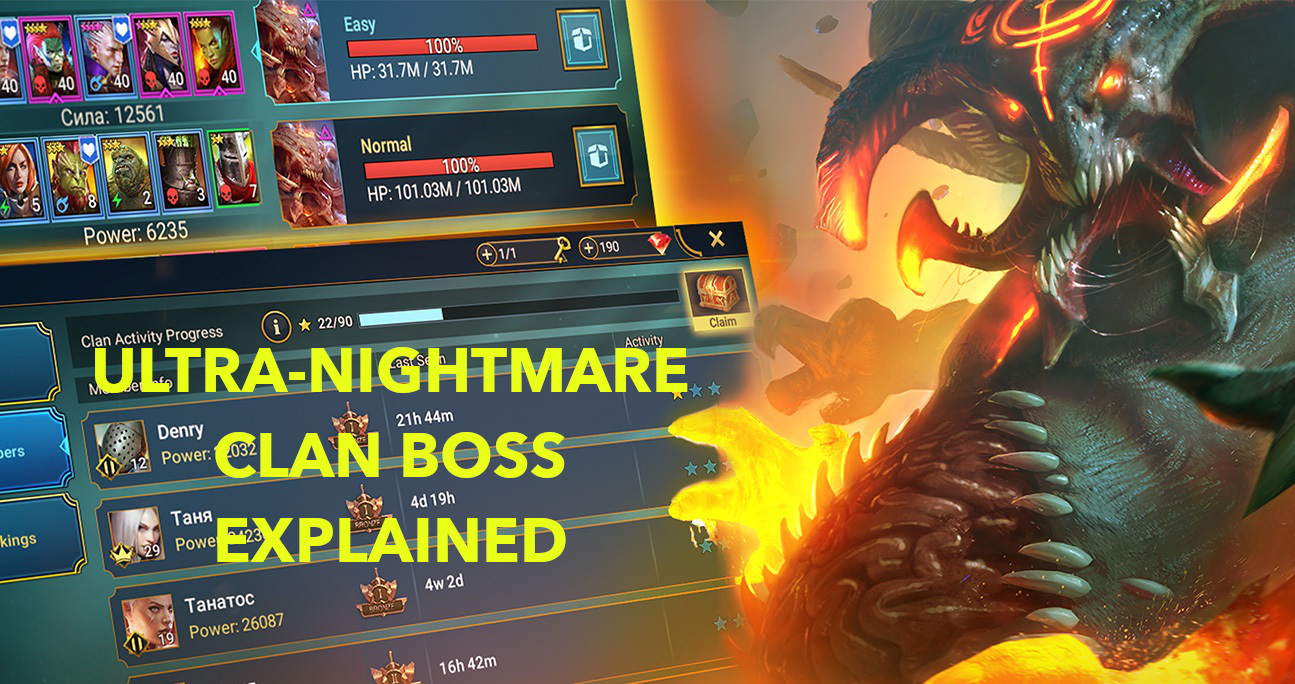 Pushing through Ultra-Nightmare Clan Boss
With the nerf to the Unkillable teams and the changes to clan hopping, many of you who are reliant on Unkillable teams will more than likely have to shift to using the standard UNM composition. In order to help facilitate this transition we've put together some "Best Practices" to aid you in getting your UNM teams re-geared and recalibrated in the wake of the changes.
General composition guidelines
Defense champions 4k to 4.5k defense
Non-defense champions 3.5k to 4k defense
Accuracy 230 for debuffers
Speed: will depend on your team composition, see below

Slow Counter

Counterattack champion - 191
Debuff cleanser - 179-180
Everyone else - 175-178.
Critical chance: 75-100%
Crit Damage: 130-200%

Speed Tune Counter

Counterattack champion - 194
Debuff cleanser - 197-199
Everyone else: 193-196

High Speed Tune

Debuff cleanser - fastest
Speed buffer/Turn Meter buffer 2nd fastest
Everyone else after

Note: Recommended starting speed 250. This is best used when you lack a counterattack champion.

Crit Counter Speed Tune

Counterattack champion 171
Debuff cleanser 179
Everyone else 173-178
Critical Hit 100%, Crit Damage 200%
Masteries: ATK (Warmaster/Giantslayer) and DEF masteries are the premium choice here but based upon champion composition (i.e. debuff extenders) you may stay with SUP for some Debuffers.
Gearing Options: Lifesteal or if you have a group healer Stalwart.
Champion Composition
Counterattack champions
You want to use a counterattack champion such as Skullcrusher, Valkyrie, or Martyr if possible.
Decrease ATK champions
You will also need to ensure you have a Decrease ATK champion that has it as part of their A1 unless you have a debuff extender such as Vizier, Warlord, Septimus, Bulwark, etc..
You may also try tying in Ally protection in order to prolong fights.
Defense champions
Defense champions are your best champions for CB - they allow you to crank up their best damage dealing stat (def) and combined with defensive aura, def down, defense up, and weakness - they give you the best bang for the buck. Especially if they have a 3 hit A1 (Rhazin or Warchief for example).
Poisoner champions
Poisoners are also vital for success on UNM, if you lack a premiere poisoner such as Venus, Nethril, Dracomorph, etc.. you may want to have 2 poisoners on the team if possible unless you have a debuff extender.
Recommendations: Steelskull and Bad-El-Kazar best fill this role.
Debuff cleansers
Debuff cleansers: You will want to make sure you have a viable option here: Bad-El-Kazar, Doompriest, Steelskull, Mausoleum Mage, etc… This becomes more important when you have affinity CB such as spirit.
---
Note: Please recognize that doing 17.5-20 million per key is good damage. That allows you to 4 key UNM. Hitting 25 million per key is ideal as that allows you to 3 key on most days. That should be the goal for everyone. Hitting the upper echelon of 30 million or higher is difficult without specific, premiere champions - don't get discouraged if you aren't hitting 30+ million a key. Until you are doing 35 million, you are still 3 keying - and those 2 key teams are stacked with the best gear and champions.
This information has been collected through the efforts of the Gallifrey cluster.
---
You may also want to read:

Completing the artifact challenge
Read how you can complete it without spending all of your money. The artifact challenge is a common event in the game, rewarding the player with uncommon objects upon completion.
Read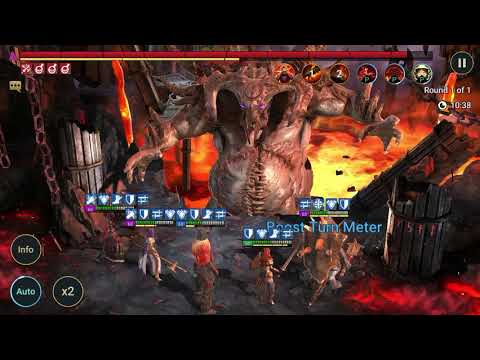 Clan boss show off: 50M damage in UNM, no unkillable!
Check out how this RAID: Shadow Legends player reached good damage on the Ultra-Nightmare Clan Boss difficulty!
Read